KAT - Rarities (2013)
KAT - Rarities (2013)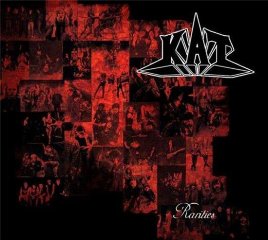 01. Wyrokiem sądu Bożego
02. Robak
03. Skazaniec
04. Zemsta
05. Bez pamięci
06. Delirium Tremens (Jarocin 1984, live)
07. Diabelski dom cz. I (Jarocin 1984, live)
08. Mocni ludzie (Jarocin 1984, live)
09. Skazaniec (Jarocin 1984, live)
10. Manaced
11. Instrumental

Tomasz Jaguś - bass guitar;
Ireneusz Loth - drums;
Piotr Luczyk - guitar;
Wojciech Mrowiec - guitar;
Roman Kostrzewski – vocal.

Rzadko ulegam reklamom. Myślę, że na palcach jednej ręki mógłbym zliczyć, kiedy zauważyłem reklamę, zapamiętałem to, co przedstawia, i jeszcze zapragnąłem kupić daną rzecz. Reklama tego krążka jednak zagnieździła się we mnie od pierwszego razu. Nowy album Kata z materiałem starego Kata! Czyż mogło być coś cudniejszego dla fana jednej z najlepszych polskich kapel thrash metalowych. Kata uwielbiałem od kiedy tylko zetknąłem się z jego muzyką. Muzyką wyjątkową, niepowtarzalną, zarówno pod względem samych kompozycji, jak i specyficznego, oryginalnego wokalu Romana Kostrzewskiego. Pan Roman był i wciąż jest jednym z najlepszych wokalistów, śpiewającym w tym stylu muzycznym. Dzięki umiejętności abstrahowania od zawartości tekstowej (sic!), skupiając się na muzyce i interpretacji wokalnej stałem się i pozostaję fanem twórczości tej grupy po dzień dzisiejszy.
Krążek "Rarities" jest skierowany głównie (ale nie tylko!) do takich staruszków, jak ja. Tych, którzy słuchali Kata w swojej młodości. Kiedy pojawiły się "trzy szóstki" Kat rzucił mnie, ale myślę, że przynajmniej połowę metalowców w tym kraju na kolana. Niezwykły, spójny, mocny materiał debiutanckiej płyty poprzedzony był jednak singlem, na którym znalazły się dwa utwory: Noce szatana i Ostatni tabor. Kawałki niezwykłe i – zwłaszcza ten drugi – bardzo inne od zawartości debiutu. Zastanawiałem się już wtedy, jak mogły wyglądać początki zespołu, czy stworzyli więcej utworów w takim właśnie stylu. Bardziej melodyjnych, hard rockowych, rozbudowanych, z innymi, delikatniejszymi wokalami. Dzięki nowej płyty wszyscy mamy szansę dowiedzieć się właśnie, jak Kat brzmiał na początku, zapoznać się z utworami, które z racji swej "odmienności" nie miały już szans wejść na "666".
Jakże piękne, hard rockowe są kawałki "Wyrokiem Sądu Bożego", czy ckliwy "Delirium Tremens", jak cudny jest płaczliwy, bluesowy "Robak", jak fajnie brzmiał mocniejszy, momentami wręcz doomowy "Skazaniec", jak fantastyczną balladą jest utwór "Bez pamięci". To zupełnie inny Kat, ale wciąż Kat! Jakże łatwo teraz zauważyć, dlaczego takie chociażby perełki, jak "Głos z ciemności" aż tak poruszały. Bo wyrosły z tego hard rockowo/ bluesowego korzenia. Wyrosły z tego korzenia i rozkwitły na kolejnych albumach grupy.
Równie ważny, z historycznego punktu widzenia jest dla fanów grupy jest zamieszczony na płycie koncert zespołu z Jarocina. Jak dobrze usłyszeć tych młodych ludzi w znakomitej formie, jak – mimo pewnych problemów technicznych – znakomicie brzmiały instrumenty, jak fantastycznie śpiewał Roman Kostrzewski.
Jak pisze wydawca, album wzbogacony jest o książeczkę z licznymi, niepublikowanymi fotkami grupy (niestety mam tylko muzykę, więc trudno mi ocenić całość albumu), zatem będzie to kolejny powód, by zainwestować w ten krążek. To rzecz obowiązkowa zarówno dla starych, którzy będę mogli przenieść się w latach w może nie za piękne, a jednak wyjątkowe lata osiemdziesiąte, jak i dla młodych, którzy będą mogli poznać początki jednego z najważniejszych zespołów tego kraju. --- Ray, metalmundus.pl
So, no prizes for guessing that this is a compilation, but I was surprised to find out about the history of this band when I started doing some research. Formed in Katowice, Poland, by Piotr Luczyk (guitars) and Ireneusz Loth (percussion) in 1979, they were soon joined by Tomasz Jagus (bass) and Ryszard Pisarski (guitar) and they started as an instrumental group, not finding a singer until they met Roman Kostrzewski in 1981. Over the years there have been multiple line-up changes, and the band themselves appear to have been dormant for the last nine years, but during their peak they were seen as one of the most influential bands in eastern Europe, and supported many of the major acts when they came over from other countries including Metallica, Hanoi Rocks, Overkill, Helloween etc.
Now, the problem with this release for me is that I was provided with a download to review, but have no information about what this CD contains, and given that it is sung in Polish, and is obviously from multiple sources (including some live numbers) with different recording quality for some (which I am guessing is rare or demo songs), that puts me at a huge disadvantage. What I do know is that although they are indicated by some as being a trash act, these guys actually have more in common with Seventies hard rock/metal, coming through with strong hooks and an approach that is far more NWOBHM than anything else. But given when these guys were formed, perhaps that isn't too surprising. The songs are of a consistent high quality, and it has spurred me on to try and find out more about these guys, as if they had come from the UK or American I am sure that they would have been more widely known. True, there is a certain naivety and lack of bottom end on some of this, but it would still be interesting to hear more. --- Kev Rowland, metalmusicarchives.com
download (mp3 @320 kbs):
yandex 4shared mega mediafire zalivalka cloudmailru uplea ge.tt