Seweryn Krajewski - Smooth Jazz (2007)
Seweryn Krajewski - Smooth Jazz (2007)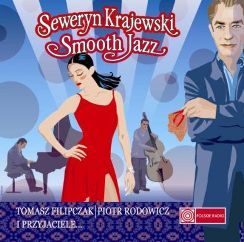 1. Lubie ten smutek 
2. Nie zadzieraj nosa 
3. Kołysanka dla Okruszka 
4. Przemija uroda w nas 
5. Wielka milosc 
6. Uciekaj moje serce (wersja instrumentalna) 
7. Nie zaluje 
8. Nie spoczniemy 
9. Kiedy mnie juz nie bedzie 
10. Barwy jesieni 
11. Uciekaj moje serce 
12. Ciagle pada 
13. Tak bardzo się staralem 
14. Kiedy mnie juz nie bedzie (Radio Mix) 
15. Uciekaj moje serce (Radio Mix)

Piosenki Seweryna Krajewskiego wykonane smooth jazzowo to nowość w podejściu do twórczości tego wybitnego kompozytora i wokalisty. Melodyjne, proste, urzekająco piękne piosenki legendarnego lidera Czerwonych Gitar, twórcy "Przemija uroda w nas", "Nie spoczniemy", "Uciekaj moje serce", to gotowe tematy do smooth jazzowej interpretacji.
Na płycie znajduje się kilkanaście utworów Seweryna Krajewskiego z różnych okresów jego twórczości, a ich interpretacje to jedna z wielu możliwych propozycji.
"Od lat grając z zespołem utwory Seweryna Krajewskiego na koncertach w Polsce i w innych krajach m.in. w Stanach Zjednoczonych, przekonałem się o ogromnym potencjale muzycznym i wspaniałym odbiorze jego piosenek, wykonywanych w jazzowym opracowaniu. Wydobywa ono piękno tych melodii i podkreśla ich ponadczasowy urok" - mówi Piotr Rodowicz - pomysłodawca płyty.
Wraz z Tomaszem Filipczakiem - głównym realizatorem i autorem aranżacji, podjęli się nagrania, do którego zaprosili wielu wybitnych polskich muzyków. Seweryn Krajewski nie tylko zaakceptował pomysł, ale także wziął udział w wykonaniu dwóch utworów. ---empik.com
download (mp3 @320 kbs):
yandex 4shared mega mediafire cloudmailru uplea ge.tt
Last Updated (Thursday, 01 September 2016 17:04)