Anita Lipnicka & John Porter - Goodbye (2008)
Anita Lipnicka & John Porter - Goodbye (2008)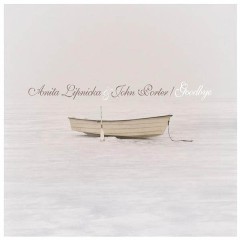 1 	Run For Your Love 	3:44
2 	Down By The Lake 	4:18
3 	Lonesome Traveller 	4:00
4 	Good To See You (Bill's Song) 	4:18
5 	Old Time Radio 	3:15
6 	Lover Turn Around 	3:04
7 	Secret Wish 	3:54
8 	You're Not The Only One		3:33
9 	How You Doin' Today 	3:48
10 	Runner Run		4:23
11 	Stone Cold Morning		2:57

Acoustic Guitar – Anita Lipnicka, John Porter
Alto Saxophone – Mariusz "Fazzi" Mielczarek
Banjo – John Porter
Cello – Barbara Piotrowska
Double Bass – Marcin Lamch
Drums – Krzysztof Poliński
Drums – Alex Porter
Electric Bass – Marcin Lamch
Electric Guitar – John Porter
Harmonica – John Porter
Harmonium – Chris Eckman
Mellotron – Chris Eckman
Percussion – Wojtek Kowalewski
Piano - Anita Lipnicka
Shaker - Anita Lipnicka
Tenor Saxophone – Mariusz "Fazzi" Mielczarek
Trombone – Andrzej Rękas
Vocals – Anita Lipnicka, John Porter

Muzykę Anity Lipnickiej i Johna Portera charakteryzuje coś przewidywalnego. Mianowicie jej stale wysoki poziom. Nie trzeba ich namiętnie słuchać czy przesadnie zachwycać się tym, co robią. Szacunek jest jednak jak najbardziej wskazany.
Dojrzałość, refleksja, spokój - to pierwsze skojarzenia, jakie przychodzą na myśl, gdy słuchamy trzeciej płyty w dorobku duetu, "Goodbye". Kiedy sięgniemy do pokładów naszych zmysłów, dostrzeżemy ponadto piękno i miłość, jakie płyną z ich muzyki, zakorzenionej w tradycji prostego grania bluesowo-alternatywnego, a jednocześnie przystępnej dla ciut bardziej wymagającego, wprawnego ucha.
Nie zawsze uda się na pierwszym planie uchwycić przebojowość i magię tego materiału. Wystarczy niemniej, że znajdziemy czas, aby wniknąć w "Goodbye", a bez przeszkód będziemy delektować się kapitalnie uzupełniającymi się wokalami Portera i Anity ("Lonesome Traveller"), brzmieniem smyczków ("Down by the Lake"), czy znakomitą partią dęciaków ("Run For Your Love").
Anita i John mówią co prawda do widzenia jako duet, ale na szczęście nie rezygnują z nagrywania w ramach solowych projektów. To dobrze, bo ludzi z takim talentem i muzycznym feelingiem zwyczajnie nigdy za dużo! ---Rafał Przygodny, muzyka.wp.pl
download (mp3 @320 kbs):
yandex mediafire uloz.to gett my-files.ru