Anita Lipnicka & John Porter - Inside Story (2005)
Anita Lipnicka & John Porter - Inside Story (2005)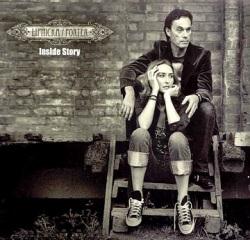 1. Black Hand 
2. Death Of A Love 
3. Such a Shame 
4. You Never Know 
5. Hold On 
6. Tell Me, Tell Me 
7. It Hearts 
8. Monday 
9. Missing 
10. Waiting For a Thief 
11. One More Step

Anita Lipnicka – vocals, keyboards
John Porter – guitar, harmonica, vocals (2)
Jani Hace - bass
Ziga Golob – bass
Chris Eckman – guitar, keyboards
Sergej Ranđelović - drums

Ileż ja bym dał, by takich płyt w Polsce wychodziło więcej. I nie chodzi mi tu bynajmniej o gatunek muzyczny, który reprezentuje duet. Rzecz jest w szacunku do słuchacza, mierzonym w jakości produkcji, w tym jak słyszymy pojawiające się nagrania. Z klasą jest też wykonane "opakowanie" - wreszcie ktoś pomyślał, by okładka płyty stanowiła z zawartością krążka artystyczną całość.
Jedenaście nagrań to dla fanów pewnie mało. Ale - co ważne - nie ma tu upychaczy, niepotrzebnych nagrań. Na "Inside Story" piosenki poukładane są z sensem, tworzą odpowiednią dramaturgię. Jeśli musimy się czymś zająć, płyta będzie bardzo miło się snuła wokół nas, jeśli się w nią wsłuchamy da nam dużo muzycznej radości.
Skojarzenia muzyczne znów pobiegną w stronę "Murder Ballads", ale jest też tu coś z klimatu kompozycji Neila Younga. Singlowy "Hold On" jest zdecydowanie najszybszym nagraniem - reszta to bardzo przyjemne 'snuje', kawałki, które budują wokół nas atmosferę ciepła. Ale jednocześnie sporo tu nagrań, które mogą spełnić rolę przeboju, czego przykładem jest chociażby "Monday".
Jeśli "Inside Story" nie powtórzy komercyjnego sukcesu "Nieprzyzwoitych piosenek" to stanie się tak nie dlatego, że jest to gorszy album. Anita i John konsekwentnie rozwijają własną stylistykę. Ci, którzy szukają tu niespodzianek zawiodą się. Ci, którzy szukają dobrych melodii i dobrej muzyki będą zadowoleni. Nawet bardzo zadowoleni. --- Marcin Cichoński, web.archive.org
The musical sensation of the last few years in Poland … Two stars from completely different constellations, whose surprising and curious artistic collaboration resulted in unexpected success. When their paths crossed in February 2002 they both had been acclaimed superstars in their genres, with well-established careers and imposing achievements. Their first "duo" album "Indecent Songs" ( recorded in London) became an overnight sensation racking up sales of over 100,000 copies and receiving many prestigious music awards. "Inside Story" their second offering (produced by Chris Eckman of the Walkabouts) released in 2005 was a "golden" follow up that confirmed their special position on the Polish market. ---mp3bits.org
download (mp3 @320 kbs):
yandex 4shared mega mediafire zalivalka cloudmailru uplea ge.tt