Anita Lipnicka John Porter - Nieprzyzwoite Piosenki (2003)
Anita Lipnicka John Porter - Nieprzyzwoite Piosenki (2003)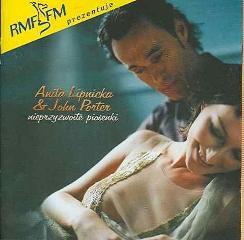 1. Bones of Love
2. Beggar's Song
3. Heaven Knows Why
4. Then and Now
5. Rose
6. Everything Flows
7. Learning (How To Fall)
8. Cry
9. Way Back To Love
10. Cruel Magic
11. Nobody Else
12. Knock, Knock
13. Strange Bird
14. Sweet Jesus

Anita Lipnicka – vocals
John Porter – vocals, acoustic guitar
Marcus Cliffe – guitars, keyboard
Tony Beard – drums
Melvin Duffy – pedal steel guitar, electric guitar 
Jane Clark – violin
Piotr Winnicki – guitar
Paul Wicken – organ Hammond B3, accordion, piano
Roman Kunikowski – piano
Marcin Lamch – double bass
Hugh Burns – mandolin, Spanish guitar
Martin Ditcham – percussion
Paul Bangash – bass, guitar

Całość brzmi trochę tak, jakby Nick Cave nagrał płytę z Sinéad O'Connor. Żart? Oczywiście, ale trochę jest w nim prawdy. Zwłaszcza w takim Heaven Knows Why. Głos Anity znam przecież nie od dziś, a jednak słuchając Nieprzyzwoitych piosenek, po raz pierwszy tak wyraźnie zauważyłem to podobieństwo. A co z Johnem? Porter ma swój własny dźwiękowy świat, który zawsze czyni jego twórczość charakterystyczną. Czy to posługuje się szyldem Porter Band, czy występuje po prostu jako John Porter. Także tutaj, piosenki przygotowane wraz z Anitą Lipnicką, mają ten typowy dla niego klimat.
Nieprzyzwoite piosenki to czternaście stonowanych balladowych utworów, zdominowanych przez brzmienie gitary akustycznej Johna i dwugłos firmującego album duetu. Czasami tylko dobarwiany jakimiś przeszkadzajkami lub liryczną partią skrzypiec. Jak w Rose czy Everything Flows. Jest to więc album bardzo spójny brzmieniowo i muzycznie.
Chociaż bywa, że gitara akustyczna ustępuje pierwszeństwa fortepianowi, jak w Strange Bird. I nawet niekiedy gdzieś umyka ten senny, melancholijny nastrój - jak w otwierającym album, singlowym Bones Of Love, Then & Now, Everything Flows czy Knock, Knock. Jednak dopiero w finale słyszymy żywszy, galopujący i folkowy, Sweet Jesus.
Płyta głównie została nagrana w Londynie, gdzie Anitę i Johna wspomagali brytyjscy muzycy, wśród których znalazł się stary współpracownik Anity i... George'a Michaela, Pet Shop Boys i Gerry'ego Rafferty, gitarzysta i mandolinista Hugh Burns. Swój wkład - inna sprawa, że niewielki - mieli jednak także i polscy współpracownicy duetu, jak klawiszowiec Romek Kunicki, gitarzysta Piotr Winnicki czy kontrabasista Marcin Lamch.
Na tle wcześniejszych płyt solowych Anity album Nieprzyzwoite piosenki wypada naprawdę interesująco. Chociaż... jeśli ktoś szukałby przebojowości spod znaku Wszystko się może zdarzyć... może mieć kłopot. Ale uważam, że fajnie będzie co jakiś czas sięgnąć po tę płytę i nie znaleźć na niej utworów "zakatowanych" przez radio. I zasłuchać się w takich perełkach jak Beggar's Song czy Leaving (How To Fall). ---Michał Kirmuć, terazrock.pl
download (mp3 @192 kbs):
uploaded yandex 4shared mega mediafire solidfiles zalivalka cloudmailru oboom