Romek Puchowski – Simply (2006)
Romek Puchowski – Simply (2006)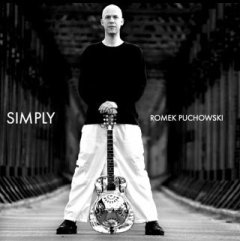 1 Barba
2 Come On In My Kitchen
3 Kindhearted Woman Blues
4 Make Me A Pallet On Your Floor
5 Stones In My Passway
6 West Indian Waltz
7 Preaching Blues (Up Jumped The Devil)
8 Walking Down The Delta
9 The Rainbow
10 Motherless Children Have A Hard Time
11 Georgia On My Mind
12 Hesitation Blues
13 Walking Blues

Romek Puchowski – acoustic guitar, Dobro, vocals

Romek Puchowski vel Hrabia von Zeit wokalista, instrumentalista, songwriter - wszechstronna muzyczna osobowość. Solista, lider i twórca alternatywnej formacji Von Zeit, członek międzynarodowych projektów muzycznych. Jego instrumentarium to: gitara DOBRO, gitary akustyczne, bas, iPhone. Miłośnik techniki slide. Harmonijnie łączy w swojej twórczości tradycję i awangardę.
Jego solowe koncerty to totalny, przepełniony pozytywną energią performance. Puchowski prezentuje autorskie piosenki (również te znane z płyt Von Zeit), bluesową klasykę z Delty Missisipi oraz mnóstwo improwizowanych partii. Zapętla akustyczne gitary, wokale, wplata w to wszystko bity z iPhone'a. Rdzeniem koncertu jest jednak człowiek z instrumentem - 100% live. O jego występach recenzenci piszą: "Mistrz przemówił!", "Kosmos, zjawisko, geniusz", "Puchowski to potęga!".
Ma na koncie występy na różnych scenach Europy. Współpracuje z czołówką bluesowych muzyków europejskich i nie tylko, m.in. ze znakomitym amerykańskim harmonijkarzem Keithem Dunnem oraz swoim mistrzem, wirtuozem gitary z Nowego Jorku, Nickiem Katzmanem. Latem 2005 roku zagrał koncerty w duecie z legendą harmonijki ustnej Sugarem Blue, znanym ze współpracy m.in. z Rolling Stones czy Frankiem Zappą. Współpracuje z Martyną Jakubowicz, Tymonem Tymańskim, Michaelem Maass.
Brał udział w prestiżowym projekcie koncertowym "Mistrzowie gitary", prezentującym najwybitniejszych polskich gitarzystów. Jest profesorem warsztatów gitarowych. Nagrywa dla wytwórni Biodro Records. Solowa płyta Romek Puchowski "Simply" (2006) otrzymała wyśmienite recenzje, a album jego formacji Von Zeit "Ocieramy się" został zaliczony do grona najlepszych płyt rockowych roku 2008. --- wrzeszcz.info.pl
download:  uploaded ziddu 4shared gett hostuje mediafire