Jaci Velásquez - Navidad (2001)
Jaci Velásquez - Navidad (2001)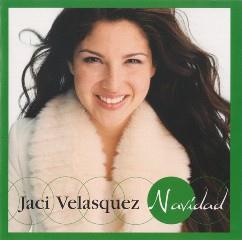 1 	Oh Ven, Oh Ven Emmanuel 	
2 	La Canción Del Angel 	
3 	El Rey De Israel 	
4 	Navidades Blancas 	
5 	Si Tu No Estuvieras Conmigo En Navidad 	
6 	Hoy Que Es Navidad 	
7 	Navidad, Navidad, Navidad 	
8 	I'll Be Home For Christmas 	
9 	Tiempo De Amar  (Featuring – Pete Orta)
10 	The Christmas Song (Chestnuts Roasting On An Open Fire) 	
11 	O Little Town Of Bethlehem 	
12 	Feliz Navidad

Tim Acres - Piano
Leanne Albrecht - Vocals (Background) 
Ashley Anderson - Children's Chorus
Jeff Bailey - Horn 
Lisa Bevill - Vocals (Background)
Ronnie Brooks - Guitar 
David Davidson 	Strings
Tim Davis - Vocals (Background)
Mark Douthit - Saxophone
Chris Dunn - Horn 
Barry Green - Horn
John Hammond - Drums
Brandon Harris -  	Children's Chorus
Chris Harris - Arranger, Producer, Vocal Arrangement, Vocals (Background)
Taylor Harris - Drums
Mike Haynes - Trumpet
Kent Hooper - Keyboards, Mixing, Programming
Tom Howard - Arranger, Conductor
The Irish Film Orchestra 
Mark Ivey - Vocals (Background) 
Scott Krippayne - Piano
Sam Levine - Horn
Ken Lewis - Percussion 
Chris McDonald - Horn, Horn Arrangements
Jerry McPherson - Guitar
Michael Mellett - Vocals (Background)
Doug Moffett - Horn 
Daniel O'Lannerghty - Bass
Abel Orta - Bass
Pete Orta - Guest Artist, Performer, Primary Artist 
Steve Patrick -[ Horn
Gabe Pigg - Children's Chorus
Gary Pigg - Children's Chorus, Vocals (Background)
Landon Pigg - Children's Chorus 
Michael Ripoll - Guitar 
Denis Solee - Horn
Javier Solís - Drums
Felicia Sorensen - Vocals (Background)
George Tidwell - Horn
Jaci Velasquez - Vocals, Primary Artist
Terri White - Vocals (Background) 

Jaci has two previous Spanish CDs and they are really good! But this new Christmas album is just spectacular and in a business where a Spanish version usually comes out later, this CD was released in Spanish at the same time as the English version!
We traditionally wait til after Thanksgiving to play Christmas music, but I couldn't resist opening this one today as our family was taking a 2-hour road trip. We listened to the whole thing a couple of times and we loved it! I have high expectations for Jaci's music and this one exceeded my expectations.
Jaci shows herself to be a TRULY versatile artist in the many different styles of music on this album. The opening track O Come O Come Emmanuel is beautiful and haunting. Angel Song is written by Chris Eaton and a high point on the album. What Jaci has done with the traditional carols is wonderful; I agree with some of the other reviewers who think that sometimes artists go too far afield in trying to make the traditional carols "original". Jaci's treatment of these all-time favorites maintains the familiar beauty, while adding her stunning vocals and lush orchestration and choir back-up where appropriate.
Have Yourself a Merry Little Christmas, Let It Snow, and I'll Be Home for Christmas have a Big Band sound and her voice changes to reflect the style. Smooth jazz - so relaxing! And sometimes she sounds to me somewhat like Natalie Cole (hey, I told you she's versatile!).
I was so thrilled to hear her rendition of Feliz Navidad - a Christmas CD by Jaci wouldn't be complete without that! You'll be up on your feet and dancing around to this one!!
If you're fortunate enough to get her limited edition with the bonus track (available here on Amazon), you'll here Jaci's duet with Alvin and the Chipmunks. What a hoot! You'll hear the Chipmunks trying to speak Spanish as well as the usual song you've come to know and love from Alvin and his chipmunk gang! Some younger music-lovers might not know this traditional song that us 40-somethings grew up with. This is a great way to introduce them to it!
Overall, this is SUCH a great CD - poignant offerings which will get you teary-eyed, traditional favorites made even better, Jaci's crooning voice on some of those Big Band numbers, Feliz Navidad, and the Chipmunk Song - what more could you ask!
This is a perfect early-Christmas gift for music-lovers of all ages!
By the way, Jaci has two Spanish albums out - they're incredible! If you know someone who speaks Spanish (or a teenager who is taking Spanish in high school), this would be the perfect gift! ---Soozie4Him, amazon.com
CCM and Latin artist Jaci Velasquez released her first holiday album, aptly titled Jaci Velasquez Christmas, in September of 2001. Beautifully orchestrated, with touches of traditional Christmas-style jazz and contemporary pop, the project resembles previous holiday releases from fellow Word artist Amy Grant. Produced by Christopher Harris, the project contains classic Christmas songs such as "O Come, O Come Emmanuel" and "White Christmas." In addition, three original tracks, including "The Angel Song," are offered. While most of the songs, even old favorites, distinctively bear the fingerprints of Velasquez, "It Wouldn't Be Christmas" is reminiscent of Mariah Carey's "Miss You Most (At Christmas Time)." Notable songs include "Have Yourself a Merry Little Christmas" and "Let It Snow, Let It Snow, Let It Snow," which both feature musical stylings from the 1940s era. Velasquez' strong yet tender and at times vulnerable vocals complement the musical arrangements, transforming well-loved classics such as "The Christmas Song (Chestnuts Roasting on an Open Fire)" into newfound treasures. ---Ashleigh Kittle, AllMusic Review
download (mp3 @320 kbs):
Last Updated (Friday, 21 December 2018 17:29)