La Storia Del Festival Di Sanremo 1951-1977 (1979) LP1
La Storia Del Festival Di Sanremo 1951-1977 (1979) LP1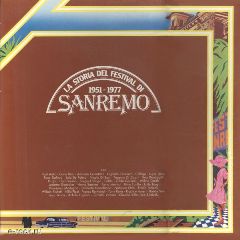 A01 Grazie Dei Fior - Nilla Pizzi
A02 La Luna Si Vesto D'Argento - Carla Boni E Achille Togliani
A03 Vola Colomba - Nilla Pizzi
A04 Papaveri E Papere - Nilla Pizzi
A05 Viale d'Autunno - Carla Boni
A06 Vecchio Scarpone - Gino Latilla
A07 Tutte Le Mamme - Gino Latilla
A08 Canzone Da Due Soldi - Achille Togliani
A09 Buongiorno Tristezza - Claudio Villa
A10 La Vita E Un Paradiso Di Bugie - Luciana Gonzales

B01 Aprite Le Finestre - Franca Raimondi
B02 Corde Della Mia Chitarra - Claudio Villa
B03 Casetta In Canada - Duo Fasano E Carla Boni
B04 Nel Blu Dipinto Di Blu - Domenico Modugno
B05 L'Edera - Nilla Pizzi
B06 Piove - Domenico Modugno
B07 Tua - Jula De Palma
B08 Libero - Domenico Modugno
B09 Avevamo La Stessa Eta - Natalino Otto
B10 Romantica - Tony Dallara

The Festival of Sanremo is a singing event held annually in Sanremo, Italy during the winter season. It is the most famous pop music event in Italy and a major media event on Italian television.
It currently takes place at the Teatro Ariston between late February and early March. Originally it was held in the ballroom of the San Remo Casino near the end of January. The festival is essentially a singing competition among performers presenting original songs in premiere, never performed publicly before, composed by Italian authors, and voted by juries and/or by popular vote.
History
The first Italian Singing Festival was organized in 1948 at La Capannina, a historical local in Versilia, and the event inspired some years later Pier Bussetti, of the Sanremo Casino, who together with Giulio Razzi devised the competition that was held for the first time in Sanremo in 1951.
The event was held at the Casino Theatre until 1976, then moved to the Ariston Theatre. In 1951 there were only three performers, then the number of singers grew in the following editions; from the third edition until 1971 each song was performed by two artists; since 1972, each artist can only compete with one song.
The editions form 1951 to 1954 were only transmitted by radio from the Casino of Sanremo, then the festival became primarily a TV event, broadcast in Eurovision by Raiuno. As with all showbiz events, a whole literature and history has flourished around the Festival. Winners disappeared within a few months, songs that did not win obtained an overwhelming popular success, magazines devoted articles and issues, and TV programs thousands of hours of anticipations and comment.
Among the multiple winners there were Domenico Modugno and Claudio Villa (four times), Iva Zanicchi 3 times, then two awards each for Nilla Pizzi, Johnny Dorelli, Gigliola Cinquetti, Bobby Solo, Nicola Di Bari, Peppino Di Capri, Enrico Ruggeri, Anna Oxa and the Matia Bazar group. --- italyheritage.com
download (mp3 @320 kbs):
yandex mediafire uloz.to mega 4shared cloudmailru gett