In-Grid - La Vie En Rose (2004)
In-Grid - La Vie En Rose (2004)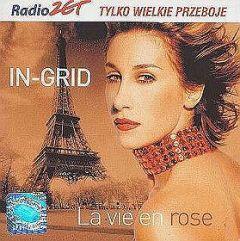 1	Un Beau Roman			
2	Les Champs Elysees			
3	Chanson D' Mour			
4	Et Maintenant			
5	Mon Je Ne Regrette Rien			
6	Mer			
7	Vie en Rose			
8	Les feuilles mortes			
9	Ne Mas Quitte Pas			
10	Un Homme et une Femme			
11	Milord			
12	Accordeonist			
13	Milord RMX

Do not buy this album if you are looking for a follow-up to "Rendez-Vouz," In-Grid's debut full of chart-topping Eurodance numbers. But you should get it if you like In-Grid and her voice, not just the musical style that made her famous. Because she shifts gears on this one and offers a set of jazzy chill-out versions of classic French standards covered and re-done by many and in various languages over decades.
I had my doubts about this collection after seeing the Hallmark-styled cover and cliche headline "Chilling with In-Grid..." When I finally got it, I realized from the first track, that it is definitely not "Rendez-Vous" and that I should keep an open mind to enjoy it.
Overall the album is quite balanced and well put together, and the singer's smooth above-average vocal delivery provides a new feel to the sweet oldies. Of course comparisons to originals and covers by other artists come to mind. I can say that "Les Champs Elysees" sounds better when sung originally by late Joe Dassin (arrangement also does not fit the mood of the song); "Et Maintenant" was covered much better (though in English) by fabulous Patricia Kaas, as well as "La Mer" (actually half of the songs on this disc appear on "Piano Bar" by Ms. Kaas, the soundtrack to "And Now Ladies and Gentlemen").
Interestingly, from mixed results of the first half of the album, it really picks up and delivers with a punchline from "La Vie On Rose" (track #7) and on. The title track is one song covered by so many artists, and In-Grid does not fail, especially with the beautiful instrumental arrangement. "Ne Mas Quitte Pas" is also quite impressive, especially instrumentally. And then In-Grid channels Her Majesty Edith Piaf, the Queen of Chanson, on "Milord" and "Accordeonist," for which I give the young singer much respect.
So, after all, the album leaves a pleasant feeling and even makes the last track, a clubby "Tu Es Foutu"-styled remix of "Milord" rather unwelcomed. --- amazon.com
Jej poprzedni album Randez Vous w Polsce osiągnął status platynowej płyty sprzedając się w nakładzie przeszło 80.000 egzemplarzy! Na La Vie En Rose znajdziemy trzynaście nowych utworów, tym razem odwołujących się do tradycji piosenki francuskiej. Wśród umieszczonych na płycie utworów nie mogło zabraknąć m.in. takich klasycznych piosenek jak Chanson D'Amour, La Vie En Rose, Milord czy Accordeonist. Wszystkie utwory, zarówno te bardziej, jak i mniej znane, zostały nowocześnie zaaranżowane w charakterystycznym dla In-Grid tanecznym stylu. La Vie En Rose to prawdziwy przebój lata! ---merlin.pl
download: uploaded yandex 4shared mediafire solidfiles mega zalivalka filecloudio anonfiles oboom