Melendi - Lagrimas Desordenada (2012)
Melendi - Lagrimas Desordenada (2012)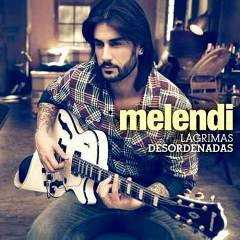 01. Tu jardín con enenitos
02. Lagrimas desordenadas
03. Cheque al portador
04. Tu lista de enemigos
05. Aprendiz de caballero
06. Autofotos
07. Mi primer beso
08. La tortura de Lyss
09. De Pequeño fue el coco
10. Gatos celestes
11. De repente desperté
12. Cheque al portador (Acustica)
13. Tu jardín con enanitos (Acustica)
14. De pequeño fue el coco (Acustica)
15. Lagrimas desordenadas (Video)

Lágrimas desordenadas es el sexto álbum de estudio de Melendi. Lágrimas desordenadas cuenta con un sonido similar al de los primeros discos del artista.
Melendi es un artista dedicado a la rumba rock. Se trata de un artista conocido por sus letras humildes en las que suele hablar de problemas comunes>
Ramón Melendi Espina (Oviedo, 21 de enero de 1979), conocido por el público como Melendi, es un artista dedicado a la rumba rock. El artista asturiano saltó a la fama gracias a la publicación de su primer álbum, Sin noticias de Holanda, y a que una de sus canciones (Con la luna llena) fue utilizada para publicitar La Vuelta a España del año 2004.
Su música toma elementos de artistas como Manolo García, Peret, Los Chichos o Estopa, entre otros. Gracias a temas como Caminando por la vida, Calle la Pantomima, Como una vela y Barbie de extrarradio, se ha hecho un hueco dentro del panorama pop español.---elepe.com
His full name is Ramón Melendi Espina. Spanish pop singer with rock, flamenco, and rumba influences. Was born on January 21, 1979 in Oviedo, Asturias.
He realized very quickly that he wasn't made for studying, but he was good at soccer. He played in the lower ranks of Astur CF, at the time a reserve team for Real Oviedo. Afterwards, he worked as a waiter in several bars and spent all night out, living experiences that would later go on to make up the lyrics of his songs. In 2001, he joined a group called "El bosque de Sherwood", and soon after recorded a demo with only three songs, "Sin noticias de Holanda", "El informe del forense", and "Vuelvo a traficar".
In February 2003, Melendi released his first solo disc, called "Sin noticias de Holanda" with twelve songs. In December 2003, this disc was rereleased with two new songs, "Asturias" and "Moratalá". However, he reached true fame with the 2004 Vuelta a España chose his song "Con la luna llena" as its official theme. In May 2004, he started a small tour around Spain, selling 50,000 copies of his CD, making it a Gold Album.
In 2005, he released his second solo CD, "Que el cielo espere sentao", which has sold more than 200,000 copies. Later that same year, he rereleased the album with three new songs, "El Nano", "La dama, and "El vagabundo y Carlota", and a Live concert DVD recorded in Oviedo. He also became a father that year, and received the Onda award for Best Song of the Year for "Caminando por la vida". ---last.fm
Last Updated (Friday, 04 December 2015 20:29)