Daniel Toro - 20 Grandes Exitos (1999)
Daniel Toro - 20 Grandes Exitos (1999)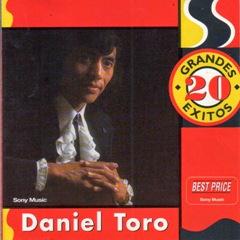 01. Zamba para olvidarte
02. El negro sinforoso
03. La caja el bombo y la quena
04. Cancion para no perderte
05. Las cosas de mi sobrina
06. Mi mariposa triste
07. Juventud siempre adelante
08. Rencor
09. Escribeme esta carta
10. Esta noche canta Salta
11. La vida recien comienza
12. Hoy te recuerda mi cancion
13. Entre el mandarinal
14. Las margaritas de tu casa
15. Por amor se da la vida a veces
16. La pena del coyuto
17. Norte azul de mi Santiago
18. En cada flor de amanecer
19. Muchacha de San Juan de la frontera
20. Las coplas del niño Jesus

This performer, guitar player, composer and songwriter, whose real name is Casimiro Cobos, was born in Salta, Northwest of Argentina, in 1941. After integrating several groups, he joined "Los Nombradores", which allowed him to divulge and popularize his songs.
In 1966, he started his solo career, until he attained one of his best moments in which the awards obtained and the permanent presence of his songs in festivals extended his popularity.
Afterwards, he would follow a different path with a focus on melodic songs or ballads. In 1979, he decided to put an end to his performer career because of a health problem, but still pursued a career as a songwriter writing memorable zambas such as "Escribeme Una Carta" and "Zamba para Olvidarte". ---peermusic.com
Este cantor, guitarrista, compositor y autor, cuyo verdadero nombre es Casimiro Cobos, nació en Salta en 1941. Inició su carrera con "Los Viñateros" con los que tuvo la oportunidad de actuar en Buenos Aires en el año 59.
Luego de su paso por varios grupos, se integró a Los Nombradores, lo que le permitió estrenar y popularizar sus canciones; pero en 1966 da un giro inesperado a su carrera al separarse del grupo y radicarse en Córdoba. Allí empieza su etapa solista, hasta alcanzar uno de sus mejores momentos, en el cual los premios y la difusión de sus canciones en festivales hizo crecer su popularidad.
Tiempo después, sin embargo, empezaría un rumbo diferente, dedicándose a la canción melódica y la balada. Dajaba de lado asi la raíz folklórica de sus comienzos. En 1979 termina su carrera de cantor a causa de una dolencia; pero eso no le impide continuar la de gran compositor, que creó las memorables zambas "Nostalgia mía", "Pastorcita perdida", Zamba de tu presencia", entre otras. ---mifolkloreargentino.com.ar
download (mp3 @128 kbs):
yandex mediafire ulozto gett bayfiles