Marie Laforet - La collection sixties des EP's francais Vol.2 (1995)
Marie Laforet - La collection sixties des EP's francais Vol.2 (1995)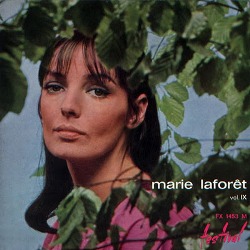 01. La tendresse (1964) (Hubert Giraud - Noël Roux) - 2:18
02. La plage "La playa" (1964) (J.Van Wetter - Pierre Barouh) - 2:53
03. Après toi qui sait (1964) (Joss Baselli - Armand Canfora - Michel Jourdan) - 3:01
04. L'arbre qui pleure "О Wiltow Waty" (1964) (Georges Auric - P.Dehn - Eddy Marnay) - 2:10
05. Katy cruelle (du film TV "La redevance du fantôme") (1965)
 (A.Podell/N.Woods - Pierre Barouh) - 2:24
06. Entre toi et moi (1965) (Pierre Couret - André Popp) - 2:13
07. La bague au doigt (du film: "100 briques et des tuiles") (1965)
 (Maurice Falconier - Nicolas Péridès - Georges Garvarentz) - 2:40
08. Ma chanson faite pour toi "No tears for Johnny" (1965)
 (Springfield/M.Hawker - Michel Jourdan) - 2:11
09. Ah! Dites, dites (1965) (André Popp - Eddy Marnay) - 2:34
10. Julie Crèvecoeur (Thème de l'indicatif du feuilleton de Radio-Luxembourg) (1965)
 (André Popp - G.Néry) - 2:13
11. Viens (1965) (Michel Jourdan - Armand Canfora - Joss Baselli) - 2:42
12. A demain my darling "The sha la la song" (1965) (Michael Farr - Robert Gall) - 2:23
13. La voix du silence "The Sound Of Silence" (1966)
 (Paul Simon - L.Ginéal, Pierre Saka) - 2:55
14. Siffle, siffle ma fille (1966) (Jean-Michel Rivat - Joe Dassin) - 2:15
15. Je t'attends (1966) (André Popp - Dumas) - 2:42
16. L'orage (1966) (Armand Canfora - Michel Jourdan) - 2:14								play
17. Marie-douceur - Marie-colère "Paint it black" (1966)
 (Mick Jagger - Keith Richard - Michel Jourdan) - 2:45
18. Toi qui dors (1966) (Ewan Mac Coll - Gilles Thibaut) - 2:48
19. Je voudrais tant que tu comprennes (1966) (Francis Lai - Georges Pirault) - 3:23
20. La moisson (1966) (Carlo Alberto Rossi - Marcello Marrechi - Françoise They) - 2:17	play
Bonuses:
21. Que calor la vida (1968) (Marie Lafôret - Macaire - Froggat) - 2:22
22. Je n'ai rien appris "Both Sides Now" (1969) (Joni Mitchell - Eddy Marnay) - 3:24
23. Le vin de l'eté "Summer wine" (en duo avec Gérard Kleiq) (1969)
 (Lee Hazlewood - Eddy Marnay) - 2:58

Personnel:
- Marie Laforêt – vocals

Marie Laforêt, born Maïténa Doumenach on 5 October 1939 in Soulac-sur-Mer, is a French singer and actress. Her career began accidentally in 1959 when she replaced her sister at the last minute in a French radio talent contest Naissance d'une étoile and won. Director Louis Malle then cast the young starlet in the film he was shooting at the time, Liberté, a project he finally abandonded, making Laforêt's first appearance on screen opposite actor Alain Delon in René Clément's 1960 drama Plein Soleil.
After this film she became very popular and interpreted many roles in the 1960s. She married director Jean-Gabriel Albicocco, who cast her in some of his own works, including La Fille aux Yeux d'Or (The Girl with the Golden Eyes), based on the Balzac story, which would become her nickname.
In her second film, Saint Tropez Blues, accompanied by a young Jacques Higelin at the guitar, she sang the title song and immediately started releasing singles, her first hit being 1963's Les Vendanges de l'Amour. Her songs offered a more mature, poetic, tender alternative to the light, teenage yé-yé tunes charting in France at the time. Her melodies borrowed more from exotic folk music, especially South American and Eastern European, than from contemporary American and British pop acts. Laforêt worked with many important French composers,musicians and lyricists, such as André Popp and Pierre Cour, who provided her with a panoply of colorful, sophisticated orchestral arrangements, featuring dozens of musical instruments and creating a variety of sounds, sometimes almost Medieval, Rennaissance or Baroque, other times quite modern and innovative.
Marie Laforêt, de son vrai nom Maïtèna Doumenach, est une actrice et chanteuse française née le 5 octobre 1939 à Soulac-sur-Mer (Gironde). Sa carrière commence « par hasard », après qu'elle a remporté le concours « Naissance d'une étoile » organisé par Europe n°1 en 1959.
En février 1963 sort son premier 45 tours qui marquera sa carrière pour toujours, c'est l'avènement des « Vendanges de l'amour », un énorme succès. Les tubes s'enchaînent : « Viens sur la montagne » et « la Tendresse » en 1964, « Katy cruelle » et « la Bague au doigt » en 1965, « Marie-douceur, Marie-colère », adaptation de Paint it black, « Manchester et Liverpool » et « la Voix du silence », version française de Sounds of silence en 1966. En 1967, « Ivan, Boris et moi » est un succès populaire ainsi que « Mon amour, mon ami ». Fin 1968, Marie Laforêt revient en force dans les hits-parade grâce au gros tube « Que calor la vida ».
Marie Laforêt (właściwie Maïténa Doumenach, ur. 5 października 1939 r. w Soulac-sur-Mer) to francuska piosenkarka i aktorka.
Kariera Marie Laforêt rozpoczęła się w 1959, przez przypadek, kiedy to zupełnie bez przygotowania zastąpiła swoją nieobecną siostrę w konkursie wokalnym Naissance d'une Étoile ("Narodziny gwiazdy"). Jej występ został nagrodzony możliwością zagrania u boku Alaina Delona w głośnym filmie "W pełni słońca". Po udanym debiucie, poślubia reżysera Jeana-Gabriela Albicocco, który obsadza ją w kilku swoich produkcjach, w tym szczególnie cenionej adaptacji powieści Balzaca z cyklu Komedii ludzkiej- Fille aux yeux d'or (Złotooka dziewczyna). W 1963 decyduje się na karierę muzyczną. Debiutuje ze słynną piosenką Les vendanges de l'amour. W początkowym okresie jej twórczości estradowej powstały popularne we Francji przeboje nurtu yéyé: Viens sur la montagne, Katie cruelle, La tendresse. Szczególnie zapamiętane była jej francuskojęzyczna przeróbka przeboju grupy Rolling Stones - Paint it black oraz duetu Simon and Garfunkel - Sound of Silence. W 1967 ukazały się jej kolejne utwory- Ivan Boris et moi, Que calor la vida oraz Mon amour, mon ami. Ta ostatnia doczekała się coveru w wykonaniu Virginie Ledoyen w powstałym niedawno musicalu Françoisa Ozona - 8 kobiet. Koniec lat 60. to chwilowy zastój komercyjnej twórczości Marie Laforêt, z powodu konfliktu z jej wytwórnią fonograficzną CBS, która odmówiła wydania proponowanych przez wokalistkę kołysanek jugosłowiańskich określając je jako trudne i mało przystępne dla odbiorcy.
download (mp3 @320 kbs):
yandex 4shared mega mediafire cloudmailru oboom uplea
Last Updated (Friday, 27 November 2015 09:57)