Vanessa Paradis - New Collection (2008)
Vanessa Paradis - New Collection (2008)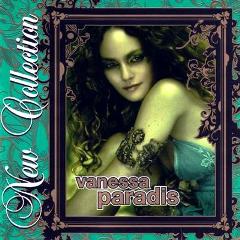 01. Joe Le Taxi	play
02. Be My Baby
03. Natural High
04. Pourtant
05. Divine Idylly
06. Commando
07. Sunday Mondays
08. Des Que J'te Vois
09. Dis Lui Toi Que Je T'aime
10. Amour Jamais
11. Eau Et Le Vin
12. I'm Waiting For The Man
13. La Bataille
14. Tandem
15. Que Fait La Vie?
16. Marilyn & John
17. L'incendie
18. Lonely Rainbows
19. Irresistinlement
20. La Melodie
21. Walk On The Wild Side
22. St Germain	play

Vanessa Paradis is one of the most beautiful French actresses. She was a model and a singer before she became a film-star. Her first success was the song "Joe Le Taxi", which was a success in 15 countries. In 1990, she was awarded a César for her debut movie Noce blanche (1989). For the next 5 years, she concentrated on her musical career, she rejected Pedro Almodóvar and John Boorman. In 1995, she appeared in Élisa (1995), but decided to concentrate on her private life with Johnny Depp and their children. After several years, Vanessa continued her singing and acting career.
Vanessa Chantal Paradis (ur. 22 grudnia 1972 w Saint-Maur-des-Fossés, Val-de-Marne we Francji) – francuska piosenkarka, aktorka i modelka.
Utwór "Joe le taxi" został wydany w 1986 roku i stał się ogólnoeuropejskim przebojem. Vanessa miała wtedy 14 lat. W 1987 roku Vanessa nagrała swój pierwszy album, zatytułowany M&J. Właśnie z jej pierwszej płyty pochodzą przeboje m.in. "M&J", "Manolo Manolette", "Coupe, coupe".
Pierwszym filmem, w którym zagrała był Noce Blanche (1989) w reżyserii Jeana-Claude'a Brisseau. Rola wrażliwej, zakochanej w nauczycielu nastolatki przyniosła jej pierwszą filmową nagrodę – Cesara w kategorii najlepiej zapowiadającej się aktorki 1990 roku. Po sukcesie pierwszej płyty, przyszedł czas na kolejną zatytułowaną "Variations sur le même t'aime", nagraną z pomocą Serge'a Gainsbourga. W 1991 roku Vanessa podpisała kontrakt na 3 mln franków z firmą Chanel, jako nowa twarz perfum Coco Chanel.
Od roku 1998 Vanessa jest związana z aktorem Johnnym Deppem. 27 maja 1999 na świat przyszła ich córka Lily Rose Melody Depp, a 3 lata później, 9 kwietnia 2002 roku urodził się ich syn John Christopher "Jack" Depp III. W 2000 wydała kolejny album z którego singlami były m.in. "Pourtant" (teledysk nakręcony przez Johnny'ego) i "Commando". W 2005 roku ukazała się jej płyta koncertowa Au Zénith. Następnie zagrała w kolejnych filmach: Atomik Circus - Le retour de James Bataille (2004), Mon ange (2005) – pierwszy długometrażowy film Serge'a Frydmana i scenarzysty Patrice'a Leconte. Pod koniec roku 2007 wydała album Divine Idylle (Johnny Depp wyreżyserował oraz wystąpił w teledysku do piosenki L'incendie ) W 2008 została wiodącą modelką, tzw. twarzą firmy Miu Miu.
download:  4shared mediafire yandex
Last Updated (Wednesday, 16 March 2016 14:14)