Amalia Rodrigues - The Best Of Fado (1996)
Amalia Rodrigues - The Best Of Fado (1996)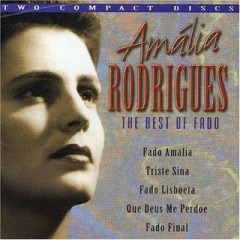 CD 1
1. Triste Sina                      play
2. Ceu Da Minha Rua
3. O Namorico Da Rita
4. Conta Errada
5. Fadista Louco
6. As Rosas Do Meu Caminho
7. Fado Marujo
8. Fado Das Tamanquinhas
9. Fado Da Adica
10. Raizes
11. Bailaricos
12. Fado Alfacinha                  play
13. Job
14. Anjo Inutil
15. Quando Os Outros Te Batem, Beijo-Te Eu
16. Fado Final

CD 2
1. Esquina Do Pecado
2. A Chave Da Minha Porta
3. Tentacao
4. Sem Razão
5. Fria Claridade
6. Campinos Do Ribatejo
7. La Porque Tens Cinco Pedras
8. Ave Maria Fadista
9. A Minha Cancao E Saudade
10. Disse Mal De Ti
11. Fado Amalia                     play
12. Fado Do Ciume
13. Cansaco
14. Que Deus Me Perdoe
15. Aquela Rua
16. Fado Lisboeta                    play

Fado (Portuguese:destiny, fate) is a music genre which can be traced from the 1820s in Portugal, but probably with much earlier origins. In popular belief, fado is a form of music characterized by mournful tunes and lyrics, often about the sea or the life of the poor. However, in reality fado is simply a form of song which can be about anything, but must follow a certain structure. Fado is indescribably sad, full of "saudade," that elusive Portuguese concept rich in memory, longing and the feeling that the past will always keep some essential part of us. Some of that feeling is captured in North American country music, especially the work of Hank Snow; some folk tunes, notably the music of Tom Rush, also embody saudade. But Rodrigues' work is in a class by itself. She communicates a sadness, a longing that fills her soul as she sings fado numbers like "Coimbra." The Portuguese guitar -- sometimes accompanied by zither -- adds to the melancholy. It's lovely music that can stir an amazing mix of emotions, and even if you don't speak a work of Portuguese, with Rodrigues' crystal clear interpretations, you'll get the point.
Fado (oznacza los, przeznaczenie) – gatunek muzyczny powstały w XIX wieku w biednych dzielnicach portowych miast Portugalii, głównie w lizbońskich kwartałach Alfama i Mouraria. Fado to melancholijna pieśń, wykonywana przez jednego wokalistę przy akompaniamencie dwóch gitar. Nazywane jest czasami portugalskim bluesem.
Amália da Piedade Rodrigues (ur. 1 lipca (?) 1920, Lizbona – zm. 6 października 1999, Lizbona), portugalska śpiewaczka fado, powszechnie uważana za najwybitniejszą reprezentantkę tego gatunku. Dała się poznać na całym świecie, jako Królowa fado i ze względu na rangę przypisywaną temu gatunkowi muzyki w kulturze portugalskiej, została uznana przez wielu za ambasadora Portugalii. Wielokrotnie występowała za granicą. Do najważniejszych jej kocertów zalicza się występy w Paryżu, Londynie i Rzymie. Równie ważny był dla jej popularności na świecie udział w 1950 roku w koncertach związanych z planem Marshalla, gdzie z każdego kraju będącego jego beneficjentem wystąpił jeden artysta, artystka lub zespół. Chętnie występowała wspólnie ze śpiewakami operowymi (Rzym, Teatro Argentina). Lubiła słuchać muzyki poważnej. Została pochowana na cmentarzu Prazeres w Lizbonie, a następnie jej prochy przeniesiono do Narodowego Panteonu w Lizbonie.Po jej śmierci w Portugalii ogłoszono trzydniową żałobę narodową.W pogrzebie uczestniczyło ponad sto tysięcy osób.
download (mp3 @256 kbs):
uploaded yandex 4shared mega mediafire solidfiles zalivalka cloudmailru oboom
Last Updated (Thursday, 02 July 2015 21:19)