Flamenco - The Essential Guide (Trilogy) [2008]
Flamenco - The Essential Guide (Trilogy) [2008]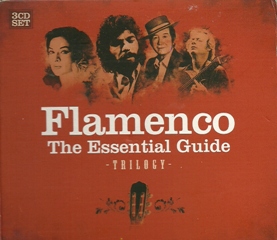 CD1 Los cantes inmortales

1. El día que me eches de menos (Camarón de la Isla)
2. Nana gitana (Lola Flores)
3. A la puerta llaman (Porrina de Badajoz)
4. Cantes de Graña (Emilio El Moro)
5. Blas infante (María Montoya La Taranta)		play
6. Cazorla (Víctor Monge Serranito)
7. El desamor (María del Monte)
8. Tengo un don (Jesús Monje Cruz Pijote)
9. Pa eso sirve el dinero (Angelillo)
10. Los campanilleros (Niña de la Puebla)
11. Fandangos nuevos (Juanito Valderrama)
12. Cantame un pasodoble español (Lolita Sevilla)
13. La banderita (Pepe Pinto)
14. ¿Dónde vas? (Fernando de Córdoba)
15. Ha de llegar el momento (La Marelú)

CD2 Alma Flamenca

1.Viento de menta (Jesús Monje Cruz Pijote)
2. Picasso (Alameda)
3. Granaina (Víctor Monje Serranito)
4. Miénteme (Ana María "La Jerezana")
5. Guajiras del campo (Emilio El Moro)
6. Me tienes que echar de menos (Porrina de Badajoz)
7. Dispararon contra Cai (Pepe Marchena)
8. Corcho con corcho ( Fernando de Córdoba)
9. Que buena soy (Gracia de Triana)
10. Tango flamenco (Cuadro Flamenco Torres Bermejas)
11. Mi hermanita la perla (Niña de la Puebla)
12. En el café de las chinitas (Juanito Valderrama)		play
13. Quejio moro (Rafael Farina)
14. Malaguenas (Víctor Monje Serranito)
15. No me seas mala (Fernando de Córdoba)

CD3 Remembranza Gitana

1. Yo soy de la isla (Jesús Monje Cruz Pijote)
2. Yo le pido a dios el cielo (La marelú)
3. La pared (José Manuel Soto)
4. Que buen es la rumba (Los Rumberos)
5. Yo vi volar la perdiz (Pepe Marchena)
6. La mar se viste de negro (Jesús Monje Cruz Pijote)
7. Solea de Córdoba (Emilio el Moro)
8. Soy gitana canastera (La Marelú)
9. Cantes de mi venta (Pepe Pinto)					play
10. Camarón (María Montoya La Taranta)
11. Romance a Córdoba (Pepe Marchena)
12. A mi suerte (La Marelú)
13. Sevillanas Toreras (Los Giraldillos de Carmona)
14. Llegando al puerto (Víctor Monje Serranito)
15. Fatiguitas negras (Jesús Monje Cruz Pijote)

Flamenco is a Spanish genre of music and dance which originated in Andalusia in the 18th century, which has as its foundation Andalusian music and dance and, in whose creation and evolution, ethnic Gypsies from Andalucian played an essential part. The cante(singing), toque(guitar playing) and the dance are the principal facets of Flamenco. In recent years the popularity of flamenco in Latin America is such that in Guatemala, Costa Rica, Panama and El Salvador several ensembles and flamenco academies have sprung up.
Traditional flamenco artists never received any formal training: they learned by listening and watching relatives, friends and neighbors. Some artists are still self-taught, but nowadays, it is more usual for dancers and guitarists (and sometimes even singers) to be professionally trained. Some guitarists can even read music and study others styles like classical guitar or jazz, and many dancers take courses in contemporary dance or ballet as well as flamenco.
Flamenco to zjawisko kulturowe, związane z folklorem andaluzyjskich Cyganów, obejmujące muzykę, śpiew, taniec, strój i zachowania. Taniec flamenco posiada swe korzenie w dawnych religijnych tańcach orientalnych. W dzisiejszej jego postaci dopatrzyć się można wielu elementów tańca hinduskiego, takich jak ruchy ramion, dłoni i palców, a także używanie nóg jako instrumentu perkusyjnego. Prawdopodobnie taniec ten pochodzi bezpośrednio od hinduskiego tańca katak.
Opowiada się tańcem historię i gestom nie przypisuje się konkretnych znaczeń. We flamenco ruchy ciała i gesty wyrażają pewne stany emocjonalne tancerza lub podkreślają znaczenie słów i charakteru melodii, która im towarzyszy. Jest to taniec wykonywany solo, w duecie, grupowo lub składa się z kolejnych "solówek", wykonywanych przez poszczególnych tancerzy. Muzyka wykonywana jest przede wszystkim na gitarze (choć zdarzają się przypadki użycia fletu, skrzypiec, wiolonczeli). Rytm wybiją zarówno tańczący jak i śpiewacy przez: uderzenia dłońmi (klaskanie), pstrykanie palcami, uderzenia otwartymi dłońmi o pudła, na których siedzą śpiewacy (tzw. cajon) i za pomocą kastanietów.
download (mp3 @192 kbs):
uploaded yandex 4shared mega mediafire zalivalka cloudmailru oboom uplea
Last Updated (Sunday, 02 August 2015 20:11)