Sylvie Courvoisier & Mark Feldman Quartet ‎– To Fly To Steal (2010)
Sylvie Courvoisier & Mark Feldman Quartet ‎– To Fly To Steal (2010)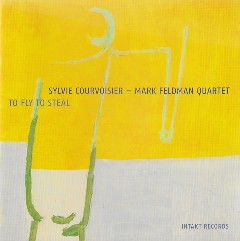 1 	Messianesque	5:52
2 	Whispering Glades	8:34
3 	The Good Life	10:23
4 	Five Senses Of Keen	12:13
5 	Fire, Fist And Bestial Wail	9:44
6 	Coastlines	5:29
7 	To Fly To Steal	10:58

Bass – Thomas Morgan
Drums – Gerry Hemingway
Piano – Sylvie Courvoisier
Violin – Mark Feldman 

Violinist Mark Feldman and his wife, pianist Sylvie Courvoisier eloquently morph restraint, depth and a contemporary classical touch into the progressive-jazz idiom on this 2010 release. Respectively, the musicians are ceaselessly engaged within the new music style of jazz and improvisation, having recorded for several record labels, spanning several years. No doubt, the duo's venerable artistic propensities unravel in resplendent fashion on To Fly To Steal.
The quartet manifests a self-identity during these emotively imbued works, designed with asymmetrical pulses, and brisk unison lines to contrast improvisation-based call and response frameworks. It's an undulating program, kindled by Feldman's climactically executed staccato phrasings and synergistic interplay with Courvoisier. Coupled with emphatic tension-and-release statements, the band abides by a democratic outlook.
Drummer extraordinaire Gerry Hemingway is an accelerator via his loose groove, polyrhythmic rolls, snare hits and cymbal swashes while attaining a prolific partnership with up and coming bassist, Thomas Morgan. During these buoyant and multidirectional pieces, the quartet seamlessly combines austere structure and sprawling improv segments. They flourish as a unit capable of untangling an abundance of mood-evoking notions amid variable levels of intensity.
Feldman and Courvoisier profess their superior techniques with minimalistic and sometimes, playful exchanges. And they venture into ethereal vistas on "Fire, Fist And Bestial Wall," where Courvoisier gently plucks the piano strings to elicit a rhythmic hue, complementing Feldman's sonorous passages. Here and elsewhere, the band delves into abstract impressionism while injecting chamber influences within angular noise-shaping jaunts. In a sense, they seem to be realigning the cosmos by generating the requisite amalgamations of power, eloquence and boundless ingenuity. ---Glenn Astarita, allaboutjazz.com
download (mp3 @320 kbs):
yandex mediafire ulozto gett bayfiles