Dewa Budjana ‎– Dawai In Paradise (2013)
Dewa Budjana ‎– Dawai In Paradise (2013)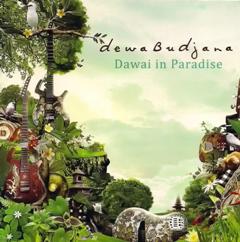 1 	Lalu Lintas 	7:44
2 	Gangga 	5:53
3 	Masa Kecil 	4:38
4 	Kromatik Lagi 	5:52
5 	Back Home 	5:47
6 	Malacca Bay 	10:37
7 	Kunang Kunang 	6:36
8 	Caka 1922 	5:52
9 	Rerad Rerod 	5:09
10 	On The Way Home 	5:55
11 	Dancing Tears 	5:59
12 	Devananda 	2:47

Arranged By [Strings Arrangement] – Aminoto Kosin (tracks: 8)
Bass – Bintang Indrianto (tracks: 7, 8), Rishanda Singgih (tracks: 3), Shadu Rasjidi (tracks: 1, 2, 4, 6)
Cello [Violoncello] – Wavan (2) (tracks: 8)
Composed By, Arranged By, Producer – Dewa Budjana
Drums – Arie Ayunir (tracks: 7), Ronald Fristianto (tracks: 3), Sandy Winarta (tracks: 1, 2, 4, 6)
Electric Guitar, Acoustic Guitar, Guitar [Synth Guitar] – Dewa Budjana
Flute [Suling Bamboo] – Saat Syah (tracks: 3, 5, 9 to 11)
Guest, Bass – Dave Carpenter (R.I.P.) (tracks: 5, 9), Reggie Hamilton (tracks: 10, 11)
Guest, Drums – Peter Erskine (tracks: 5, 9 to 11)
Guest, Harmonica – Howard Levy (tracks: 9)
Keyboards – Indra Lesmana (tracks: 5, 10, 11), Krishna Balagita (tracks: 7)
Piano – Ade Irawan (tracks: 6), Irsa Destiwi (tracks: 2)
Viola – Surti (tracks: 8)
Violin – Helmi (tracks: 8), Oni (tracks: 8)
Vocals – Dawai (tracks: 3, 9), Deva (tracks: 3, 9), Sophia Latjuba (tracks: 2), Ubiet (tracks: 6), Vinod Gangani (tracks: 2)

Though Dawai In Paradise is the first U.S. release by guitarist Dewa Budjana, careful study of the liner notes indicates that the Bali native has been playing jazz at a very high level for quite some time. Listening to this polished gem of an album, it's readily apparent that Budjana is no neophyte. In fact, he's a seasoned session guitarist and a permanent member of Gigi (Teeth), a well-established and quite popular Indonesian rock band.
The tracks that comprise Dawai In Paradise were compiled from five separate recording sessions between 2000 and 2011. The fact that these 12 tracks—so separate in space and time—hang together so seamlessly is a tribute to Budjana's skills as a producer. A long-time fan of jazz, old-school jazz-rock fusion and progressive rock, Budjana's most risky and interesting compositions; "Lalu Lintas," "Gangga," "Kromatik Lagi," and "Dancing Tears" toy with odd and highly personal combinations of various Western influences. "Lalu Lintas" is pure, unabashed high-energy fusion with a quirky edge à la National Health or Bill Bruford's first couple of records, while "Kromatik Lagi" waxes post-boppish with a goofy Ornette Coleman-like melody line and an unexpected symphonic fusion tag. "Gangga" digs deep into an Indian bag, and pairs an impressively unhinged, ring-modulated guitar solo with a sugary, blissed-out vocal chorus that sounds like something from a late-70s Narada Michael Walden LP. "Dancing Tears" is a multi- sectioned tour de force that tempers Budjana's penchant for pretty, singsong melodies with Mahavishnu-like guitar riffs and stormy minor key chord progressions. Interestingly, Budjana's homegrown rhythm section on the first three of these tracks is every bit as virtuosic and graceful as the formidable Peter Erskine / Reggie Hamilton combination on the latter one.
Like label-mate and fellow Jakarta resident Tohpati Ario Hutomo, Dewa also has a profound connection to the musics of his homeland. Though sonorities derived from various Southeast Asian ethnic traditions dominate, Indian influences are also quite prominent, and a characteristically sitar-like guitar synth is way out front on several pieces. The more ethnic-influenced compositions on Dawai In Paradise tend also to indulge the guitarist's abiding interest in funky pop music and Bollywood-scale grandeur. That said, Budjana's scorching improvisations slice smartly through the exotic and intricate arrangements on "Masa Kecil," and "Rerad Rerod." Howard Levy's gritty harmonica solo gives the latter a highly effective sense of cultural displacement, while somehow fitting in just perfectly.
The music of the Pat Metheny Group—particularly the first couple of recordings they did after leaving the ECM label—also looms large among Budjana's inspirations. This is particularly evident on "Back Home," "On The Way Home," and "Malacca Bay." While the stripped-down, jazzy approach of the latter is a welcome respite from the highly refined nature of the rest of the album, the other two derive appreciable forward momentum from the deeply connected Dave Carpenter / Peter Erskine rhythm axis. The remaining tracks, particularly "Kunang Kunang" and "Caka 1922," suffer a bit from a nexus of heavy-handed production and their somewhat precious melodic content, a holdover perhaps from Budjana's extensive experience as a pop musician and session player. Quibbles aside, Dawai in Paradise is a skillfully-crafted collection of tunes by an amazingly talented, ambitious, and multi-faceted musician. ---Dave Wayne, allaboutjazz.com
download (mp3 @320 kbs):
yandex mediafire ulozto gett bayfiles