Hadley Caliman ‎– Iapetus (1972)
Hadley Caliman ‎– Iapetus (1972)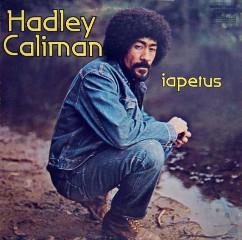 A1 	Watercress 	3:45
A2 	Ambivalence 	7:38
A3 	Dee's Glee 	7:39
B1 	Iapetus 	9:59
B2 	Quadrivium 	3:48
B3 	Green Eyes 	5:17

Bass – James Leary
Congas – Victor Pantoja
Drums – Woody Theus
Flute – Hadley Caliman
Piano – Todd Cochran
Tenor Saxophone – Hadley Caliman
Timbales – Hungria Garcia
Trumpet – Luis Gasca

Tenor saxophonist Hadley Caliman is part of the living history of jazz music in America.
He performed, recorded and toured with musicians such as Freddie Hubbard, Gerald Wilson, Carlos Santana, Dexter Gordon, Elvin Jones, Mongo Santamaria, Joe Pass, The Grateful Dead, Joe Henderson, Don Ellis, Flora Purim, Phoebe Snow, Bobby Hutcherson and many others.
His influence on the sound of modern jazz music can be heard on many of his albums as a leader, including his newest release on Origin Records: Gratitude, featuring drummer Joe LeBarbera, vibraphone master Joe Locke and trumpeter Thomas Marriott.
At 77 years old and now making his home in Seattle, Hadley Caliman is an active and vibrant part of the busy Seattle music scene, and continues to tour, teach and perform throughout the world. ---Jim Wilke, allaboutjazz.com
download (mp3 @320 kbs):