Teddy Edwards With Les McCann Ltd. ‎– It's About Time (1960)
Teddy Edwards With Les McCann Ltd. ‎– It's About Time (1960)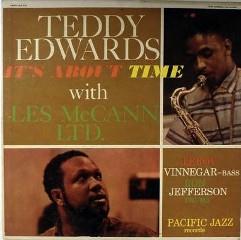 A1 	Our Love Is Here To Stay 	5:34
A2 	Frankly Speaking 	5:49
A3 	Fools Rush In 	4:45
A4 	Undecided 	4:32
B1 	Blue's Comjumations 	6:50
B2 	Willow Weep For Me 	5:22
B3 	Lover Come Back To Me 	5:18

Bass – Leroy Vinnegar
Drums – Ron Jefferson
Piano – Les McCann
Tenor Saxophone – Teddy Edwards 

What always struck me most, was that Teddy Edwards forever creates an emotionally happy atmosphere, one spurred on by the mutual support and admiration of those he plays with, though sadly, seems to have gotten lost in the land of obscure saxophonists ... Los Angeles.
It's About Time was laid down while living in California, being deeply influenced by those other great jazz musicians who'd found their way to the west coast and were bringing to light a new set of standards and presentations based on the post-bop styles of the late 1940's. While all of his albums are very satisfying, floating on a smooth undercurrent, Edwards is a bit too angular for my tastes, not so much attacking or punching his notes, yet defining them in a manner that does not allow for a smooth transition from note to note and phrase to phrase in order to create a translucent sonic wholeness. With Edwards one doesn't get a plate of scrambled eggs, it's more that one's served up a dozen individual eggs, where to my ears Edwards never manages to find that sweet spot, that sonic wholeness or an alarming beauty.
If anything, Edwards appears to have been purposely attempting to find or create his own vision, his own sound, and while others may consider him cutting edge, I find his music to be rather forced and slightly uncomfortable, never allowing me to relax, nearly keeping me at arm's length and unable to slip into his groove. Perhaps this is all of my own making, perhaps a combination of both he and I, though this is not music that has improved with age for me, nor is it a wine that goes down easy, rather Edwards in an understated manner commands that one must pay attention to each and every defining note, leaving me feeling lost in the structure, never able to share or be part of the big picture.
That said, this assemblage is a collection of numbers taken from three sessions, all of the recordings were laid down between March and May of 1960 for Pacific Jazz and World Pacific labels, featuring both Edwards and Les McCann in leads. The sincere shining moments on this record are those of the backing ensembles, leaving me to wonder whey Teddy Edwards could not settle into the fine nuances of these other great players, why he felt that he needed to ride above them, delivering an angular linear procession that stands in sharp contrast and juxtaposition to that beautiful emancipating background.
Regardless, this is an album I highly recommend and endorse, essentially in its vinyl format. ---rateyourmusic.com
download (mp3 @320 kbs:)
yandex mediafire ulozto gett solidfiles bayfiles
Last Updated (Thursday, 28 January 2021 12:07)