Andrew Hale & Simon Hale — L.A. Noire Official Soundtrack (2011)
Andrew Hale & Simon Hale — L.A. Noire Official Soundtrack (2011)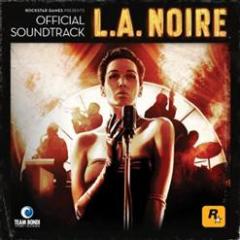 01 - Andrew Hale - Main Theme
02 - Andrew Hale and Simon Hale - New Beginning (Part 1)
03 - Andrew Hale and Simon Hale - New Beginning (Part 2)
04 - Andrew Hale and Simon Hale - New Beginning (Part 3)
05 - Andrew Hale - Minor 9th
06 - Andrew Hale and Simon Hale - Pride of the Job (Part 1)
07 - Andrew Hale and Simon Hale - Pride of the Job (Part 2)
08 - Andrew Hale - Noire Clarinet
09 - Andrew Hale and Simon Hale - Temptation (Part 1)
10 - Andrew Hale and Simon Hale - Temptation (Part 2)
11 - Andrew Hale and Simon Hale - Temptation (Part 3)
12 - Andrew Hale & Fly - J.J
13 - Andrew Hale and Simon Hale - Redemption (Part 1)
14 - Andrew Hale and Simon Hale - Redemption (Part 2)
15 - Andrew Hale and Simon Hale - Redemption (Part 3)
16 - Andrew Hale and Simon Hale - Slow Brood
17 - Andrew Hale and Simon Hale - Use and Abuse (Part 1)
18 - Andrew Hale and Simon Hale - Use and Abuse (Part 2)
19 - Andrew Hale and Simon Hale - Use and Abuse (Part 3)
20 - Andrew Hale and Simon Hale - Use and Abuse (Part 4)
21 - Andrew Hale and Simon Hale - Fall from Grace (Part 1)
22 - Andrew Hale and Simon Hale - Fall from Grace (Part 2)
23 - Andrew Hale and Simon Hale - Murder Brood (Part 1)
24 - Andrew Hale and Simon Hale - Murder Brood (Part 2)
25 - Andrew Hale - Main Theme (Redux)
26 - Claudia Brucken Feat. The Real Tuesday Weld - (I Always Kill) The Things I Love
27 - Claudia Brucken Feat. The Real Tuesday Weld - Guilty
28 - Claudia Brucken Feat. The Real Tuesday Weld - Torched Song

Composed By – Andrew Hale
Conductor – Simon Hale

I figured I'd like the L.A. Noire soundtrack before I even heard it—here we had noir-style detective game set in the late 1940s, and so you just knew it was going to feature a bunch of great jazz. Rockstar is known for the licensed soundtracks of the Grand Theft Auto games, but with Bully and Red Dead Redemption, they had already proven themselves just as capable of assembling kickass original soundtracks.
So it wasn't a huge surprise that brothers Andrew and Simon Hale's jazz/small orchestra compositions wound up being my favorite part of L.A. Noire. I had plenty of issues with the game itself, but the Hale brothers' music never got old for me.
One thing I find interesting is that the soundtrack is entirely anachronistic. L.A. Noire takes place in 1947, but the kind of jazz featured on the soundtrack is a mix of hard-bop and "cool" styles, both of which rose to prominence in the mid-to-late 1950s. Many of the dissonant, or "close" harmonies heard in the brass sections recall the mournful, evocative arrangements of the great Gil Evans, famous for his late-1950s collaborations with Miles Davis like Porgy and Bess and Sketches of Spain.
In 1947, the bebop movement was still moving ito its prime. Artists like Charlie Parker and Dizzy Gillespie were making music that was jangly, jarring, and primitively recorded, with none of the long tones, modal harmonies, and clustered chord-extensions heard in the Hale brothers' work on L.A. Noire. But then, who cares about period accuracy? A period-appropriate soundtrack wouldn't have been half as cool as the one we got. This game's music was more about conjuring the vibe of a noir, rather than the actual time period in which its story was set. And that's just fine with me. --- Kirk Hamilton, kotaku.com
download (mp3 @320 kbs):
yandex mediafire uloz.to mega 4shared cloudmailru gett