Wynton Marsalis - Christmas Jazz Jam (2009)
Wynton Marsalis - Christmas Jazz Jam (2009)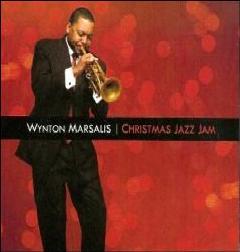 1 	Santa Claus Is Coming To Town	4:50
2 	Mary Had A Baby 	4:04
3 	Jingle Bells	4:43
4 	Blue Christmas	5:25
5 	Go Tell It On The Mountain 	7:09
6 	O Christmas Tree 	7:25
7 	O Little Town Of Bethlehem 	7:22
8 	Rudolph The Red-Nosed Reindeer	6:06
9 	The Christmas Song	5:30
10 	Good King Wenceslas 	6:50
11 	Have Yourself A Merry Little Christmas	7:08
12 	Greensleeves	2:08

Alto Saxophone – Wessell Anderson
Banjo, Guitar – Don Vappie
Bass – Reginald Veal
Bass Clarinet, Baritone Saxophone – Paul Nedzela
Clarinet – Victor Goines
Drums – Herlin Riley
Piano – Dan Nimmer
Tenor Saxophone, Soprano Saxophone – Victor Goines, Walter Blanding
Trombone – Vincent Gardner, Wycliffe Gordon
Trumpet – Wynton Marsalis
Tuba – Wycliffe Gordon
Vocals – Don Vappie, Roberta Gumbel

It's been over twenty years since jazz musician Wynton Marsalis released his last holiday-themed album, 1989's Crescent City Christmas Card, but the famed trumpeter one-ups that release with his fantastic new effort, Christmas Jazz Jam (this was originally released in November 2009, but considering that holiday records only get a month or two of exposure at best, it only seems fitting that we revisit this particular recording this season).
There's little doubt of Marsalis' influence in the world of jazz. He's been recording dozens of his own albums (both jazz and classical) since 1981, has received nine Grammy awards, as well as being the first to be awarded a Pulitzer Prize for Music for a jazz recording (his 1997 album Blood On The Fields, which deals with a couple moving from slavery to freedom). In addition, Marsalis is also currently the Artistic Director of NYC's Jazz at Lincoln Center. Perhaps even more significant, though, is that this 49-year old musician continues to educate today's youth on the importance of jazz (as well as classical) music to ensure that this uniquely American style of music continues to thrive for future generations.
What Marsalis and his 10-piece band have brought to the holiday table for this tasty platter are a dozen Christmas chestnuts that are as loose as they are festive. There's little surprise that Wynton's hometown and the cradle of jazz, New Orleans, should play such a significant role on these numbers. In fact, the jubilant, good-natured vibe of the city permeates through nearly every track. Classics such as "Blue Christmas" sound as if you're in the middle of a Crescent City funeral street procession, before the second line kicks up their heels on the festive songs "Jingle Bells" (which finds Wynton tapping into the spirit of the great Louis Armstrong with his bawdy, high-stepping trumpet solo), "O Christmas Tree," "Good King Wenceslas" and even the age-old gospel spiritual "Go Tell It On The Mountain," which injects the runaway exuberance of the early jazz classic "Tiger Rag" before the tempo slows down to showcase the band's jovial looseness, as if they were jamming for no one but themselves in the back-room of a club with a punchbowl full of rum-spiked eggnog.
Other tracks such as "Rudolph The Red-Nosed Reindeer" and "Have Yourself A Merry Little Christmas" take on a wonderful post-Be-Bop jazz approach, while the band's closing take on the traditional English folk song "Greensleeves" showcases Marsalis' musical prowess with a poignant and beautifully bittersweet trumpet performance throughout.
Whether you're a lover of jazz, New Orleans music, or just want a fun and refreshing new take on some old Christmas standards, this must-have holiday collection will not disappoint. ---Tony Bonyata, concertlivewire.com
download (mp3 @VBR kbs):