Wynton Marsalis and Eric Clapton – Play the Blues Live From Jazz At Lincoln Center (2011)
Wynton Marsalis and Eric Clapton – Play the Blues Live From Jazz At Lincoln Center (2011)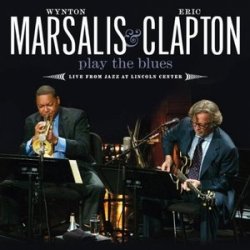 01 – Ice Cream
02 – Fourty-Four
03 – Joe Turner's Blues
04 – The Last Time			play
05 – Careless Love
06 – Kidman Blues
07 – Layla
08 – Joliet Bound			play
09 – Just A Closer Walk With Thee (feat. Taj Mahal) 
10 – Corrine, Corrina (feat. Taj Mahal)

Musicians:
Trumpet -Wynton Marsalis
Guitar, Vocals – Eric Clapton
Trumpet – Marcus Printup
Trombone – Chris Crenshaw
Clarinet – Victor Goines
Piano – Dan Zimmer
Bass – Carlos Henriquez
Drums – Alan Jackson
Keyboards – Chris Stainton
Banjo – Don Vappie
Special Guest
Guitar, Vocals – Taj Mahal

New York City's premier jazz venue got the blues last April when Wynton Marsalis and Eric Clapton performed together in Rose Theater at Frederick P. Rose Hall, home of Jazz at Lincoln Center for two sold-out shows dedicated to vintage blues. The extraordinary collaboration, billed as Wynton Marsalis & Eric Clapton Play the Blues, paired these musical virtuosos with members of the Jazz at Lincoln Center Orchestra as they brought to life a repertoire of songs selected by Clapton and arranged by Marsalis.
Reprise Records captures the magic of these unprecedented shows from earlier this year on CD and as a CD/DVD combo that both feature selections taken from the two public concerts (April 8-9), as well a special performance for Jazz at Lincoln Center's annual gala (April 7). WYNTON MARSALIS & ERIC CLAPTON PLAY THE BLUES - LIVE FROM JAZZ AT LINCOLN CENTER will be available September 13 at physical and digital retail outlets for suggested list prices of $18.98 (CD), $24.98 (CD/DVD) and $9.99 (digital – audio only). The DVD will also feature a bonus performance of the classic "Stagger Lee" from legendary bluesman Taj Mahal's opening solo set for these special shows.
Marsalis, Artistic Director of Jazz at Lincoln Center and nine-time Grammy Award winner, writes about his collaboration with Clapton, a 19-time Grammy recipient, in the album's liner notes: "...we wanted these concerts to sound like people playing music they know and love, not like a project."
To help them achieve that level of devotion, Marsalis and Clapton were joined on stage by Dan Nimmer (piano), Carlos Henriquez (bass), Ali Jackson (drums), Marcus Printup (trumpet), Victor Goines (clarinet), Chris Crenshaw (trombone, vocals), Don Vappie (banjo) and Clapton's longtime keyboarist/sideman Chris Stainton. Marsalis says the group combined the sound of an early blues jump-band with the sound of New Orleans jazz to accommodate the integration of guitar/trumpet lead, a combination that gave the musicians the latitude to play different grooves, from the Delta to the Caribbean and beyond.
The band nimbly navigated a diverse set list that touched on different styles, from the four-on-the-floor swing of Louis Armstrong's "Ice Cream" and the southern slow-drag of W.C. Handy's "Joe Turner's Blues" to the traveling blues of "Joliet Bound" and the boogie-woogie jump of "Kidman Blues." After opening the shows with his solo set, Mahal returned to join the band on "Corrine, Corrina" and the New Orleans funeral standard "Just A Closer Walk With Thee."
The one song not selected by Clapton for the show was his own "Layla," which was requested by bassist Henriquez and arranged as a Crescent City dirge to tremendous results. On his review of the performance, David Fricke of Rolling Stone wrote: "In the [song's] instrumental break, Clapton hit a series of stabbing licks lightly crusted with distortion, followed by Marsalis' slow parade of clean hurting peals – a moving dialogue in lovesickness and blues routes." --- whereseric.com
Największy biały bluesman i geniusz jazzowej trąbki na wyjątkowym, wyprzedanym koncercie w legendarnym miejscu dla nowojorskiego i światowego jazzu. Koncert w Lincoln Center Performances z kwietnia 2011 roku prezentuje Erica i Wyntona wykonującego bluesowe klasyki wybrane przez Anglika. Wyjątkowe aranżacje urzekają pięknem. Podkolorowuje je pięknie Lincoln Center Orchestra. Eric Clapton i Wynton Marsalis są wspomagani przez następujących muzyków: Dan Nimmer (fortepian), Carlos Henriquez (gitara basowa), Ali Jackson (perkusja), Marcus Printup (trąbka), Victor Goines (klarnet), Chris Crenshaw (puzon), Don Vappie (banjo), Chris Stainton (klawisze).
W zestawie znalazła się też nieśmiertelna "Layla", a w kilku piosenkach na scenie pojawił się Taj Mahal. Koncert miał niesamowitą temperaturę, co nieźle odzwierciedlają jego wybrane fragmenty, które zapisano na CD i DVD. Chcieliśmy, aby nasz występ brzmiał tak, żeby ludzie czuli, że ci dwaj faceci grają muzykę, którą kochają, a nie, że jest to przypadkowy projekt - mówił Marsalis. I nie ma wątpliwości, że czuć, że on i Eric te piosenki kochają. Edycja specjalna z dołączonym DVD z zarejestrowanymi utworami z koncertu, jako bonus - utwór: "Stagger Lee", którego nie ma na płycie CD. ---amazonka.pl
download (mp3 @256 kbs):
uploaded yandex 4shared mega mediafire solidfiles zalivalka cloudmailru oboom
Last Updated (Thursday, 25 June 2015 22:58)