Stacey Kent - It's A Wonderful World (2012)
Stacey Kent - It's A Wonderful World (2012)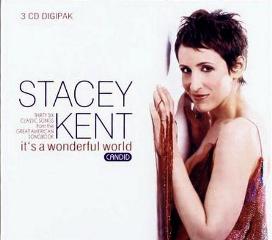 CD1 - Close Your Eyes 1997 (00:53:48)

01. More Than You Know [05:33]
02. Dream Dancing [04:20]
03. Close Your Eyes [05:21]
04. There's A Lull In My Life [04:25]
05. Its Delovely [03:23]
06. There's No You [06:12]
07. I'm Old Fashioned [02:54]
08. You Go To My Head [06:58]
09. Little White Lies [04:13]
10. Sleep Warm [04:33]
11. Day In - Day Out [05:49]

CD2 - The Tender Trap 1998 (00:56:33)

01. The Tender Trap [04:42]
02. I Didn't Know About You [04:41]
03. Comes Love [04:01]
04. In The Still Of The Night [05:06]
05. Fools Rush In [04:42]
06. East Of The Sun [06:36]
07. Zing! Went The Strings Of My Heart [04:09]
08. They Say It's Wonderful [04:54]
09. Don't Be That Way [04:19]
10. They All Laughed [03:58]
11. In The Wee Small Hours Of The Morning [04:57]
12. It's A Wonderful World [04:21]

CD3 - Let Yourself Go 2000 (00:54:38)

01. Let Yourself Go [03:47]
02. They Can't Take That Away From Me [05:02]
03. I Won't Dance [04:40]
04. Isn't This A Lovely Day? [03:59]
05. They All Laughed [04:30]
06. He Loves And She Loves [04:24]
07. Shall We Dance? [03:03]
08. One For My Baby (And One More For the Road) [05:56]
09. S'Wonderful [06:00]
10. A Fine Romance [03:02]
11. I Guess I'll Have To Change My Plan [02:37]
12. I'm Putting All My Eggs In One Basket [03:44]
13. By Myself [03:48]

Personnel:
Stacey Kent (voc)
Jim Tomlinson (ts)
Colin Oxley (g)
David Newton (p)
Dave Green, Simon Thorpe (b)
Steve Brown, Jeff Hamilton (dr)

The ability to tell a story, capture an emotion, a mood, hone it and share it like a secret with her audience; these are the qualities that make Stacey Kent so special. Happy at home in a variety of genres, she casts wide her net in search of inspiration. A native of New Jersey, now living in Colorado, Stacey Kent developed a childhood fascination for musical comedies and the great jazz masters, as well as folk singers such as Neil Young and Cat Stevens.
It was years later, as a graduate in comparative literature from New York's Sarah Lawrence College, that she met her future husband and producer, the saxophonist, Jim Tomlinson where they were both auditioning at the prestigious Guildhall School of Music and Drama in London. With the release of her first solo album, "Close Your Eyes", in 1997, the critics saluted the birth of a new jazz star with impeccable phrasing, a clear, bewitching voice, and a singular style blending sensitivity and sophistication. Her covers of standards from the Great American Songbook and Brazilian repertories, including classics by Duke Ellington, Cole Porter and Antonio Carlos Jobim, are always imbued with her inimitable contemporary sensibility.
Stacey Kent has established herself as one of the new century's brightest jazz revelations: voted best jazz vocalist at the 2001 British Jazz Awards, and the 2002 BBC Jazz Awards, she was also a 2009 Grammy nominee. Her greatest success came with the release of her 2007 Blue Note debut album "Breakfast On the Morning Tram" which clocked up worldwide sales of over 300,000. France became her special stomping ground, with 150,000 album sales, a sell-out nationwide tour (including a memorable gig at the Paris Olympia) and the National Order of Arts and Letters decoration, bestowed by the French Minister of Culture in spring 2009.
Kent's personal connection to France runs deep. Her grandfather was a long-term resident and she spent time studying there as an undergraduate. The first signs of Francophilia, which was passed on to her by her grandfather, were already visible on "Breakfast On the Morning Tram", which featured several tracks from the French repertory: Samba Saravah (from Lelouche's film A Man and a Woman) and two Serge Gainsbourg covers, Ces petits riens and La saison des pluies.
With her release, she goes the extra mile with an all-French album entitled Raconte-moi... (Tell Me) Here, Kent revisits great classics of the French musical heritage with songs by Barbara, Paul Misraki, Georges Moustaki, Henri Salvador, Michel Jonasz, Keren Ann and Benjamin Biolay, and also showcases original work by talented young songwriters like Claire Denamur, Camille D'Avril (who collaborated with Jim Tomlinson on one title) Pierre-Dominique Burgaud and Emilie Satt, whose "La Vénus du mélo" is the debut single.
So is this jazz or French chanson? Yet again, Stacey Kent bridges the divide between genres, elegantly and daintily stamping her own personal hallmark on this shining album. ---amazon.com
download:
Last Updated (Saturday, 09 May 2015 23:15)