Kenny Wheeler ‎– Gnu High (1975)
Kenny Wheeler ‎– Gnu High (1975)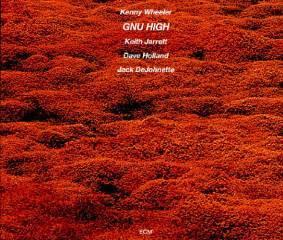 1 	Heyoke 	21:47
2 	'Smatter 	5:56
3 	Gnu Suite 	12:47

Kenny Wheeler – flugelhorn
Keith Jarrett – piano
Dave Holland – bass
Jack DeJohnette – drums

When Kenny Wheeler expatriated from his native Canada to England, it was not headline news. But upon the release of Gnu High, he became a contemporary jazz figure to be recognized, revered and admired. Playing the flugelhorn exclusively for this, his ECM label debut, Wheeler's mellifluous tones and wealth of ideas came to full fruition. Whether chosen in collaboration with label boss Manfred Eicher or by Wheeler alone, picking pianist Keith Jarrett, bassist Dave Holland and drummer Jack DeJohnette was a stroke of genius. They support the elongated and extended notions of Wheeler's in many real and important ways. What is also extant is a sense of self-indulgence, real for listeners with short attention spans.
"Heyoke" is such a piece rife for this discussion at nearly 22 minutes. This lilting waltz is at once atmospheric and soulful, a fairly fresh and inventive style turned more dramatic near the finish of this magnum opus. It's all fueled by the reinvented swing of DeJohnette. Jarrett's vocal whining is kept in check, as his pretty pianistics buoy Wheeler's notions in Zen inspired time and eventually no time improvisations.
"Gnu Suite" is similarly rendered in an unforced 4/4 rhythm, but Wheeler is more animated. There's a plus-plus solo from Holland before the group merges into a floating and flowing discourse again in free time.
The special track is "Smatter" and at just under six minutes works better, not only for radio airplay, but also in its concise melodic construct by means of the regal and happy persona Wheeler portrays. Pure melody and a repeated anchoring seven-note phrase insert sets this tune apart from the rest.
It also clearly identifies the warm and cool stance only Wheeler wields, making seemingly simple music deep and profound. Certainly this was an auspicious starting point, albeit long winded, for a magical performer whose sound and smarts captured the imagination of so many fellow musicians and listeners from this point onward. --- Michael G. Nastos, Rovi
download (mp3 @256 kbs):
yandex 4shared mega mediafire zalivalka cloudmailru uplea ge.tt