Michal Urbaniak - Urbanator (1994)
Michal Urbaniak - Urbanator (1994)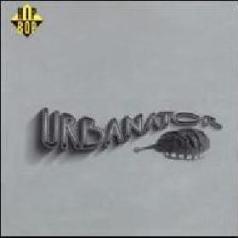 1. Chameleon (5:23)
2. Hopscotch (5:05)
3. Cats (4:58)
4. Hot Jazz Biscuits (4:40)
5. Watermelon Man (6:22)
6. First Flight (4:16)
7. Here I Go Again (4:32)
8. Sack O'woe (6:54)
9. For My Mother (4:52)
10. Square Park Sunday (4:25)

Michal Urbaniak - violins, saxophones
Lenny White - drums, percussion
Al MacDowell - basses
Jon Dryden – keyboards

If I had have blinked for a moment I likely would've missed this album completely. From the generic cover to the false looking logo in the upper left hand corner of the CD,it didn't seem the least of interest to me. That was until I was presented with the personnel involved. The violinist Michael Urbaniak has been someone I've known about only for a short time. But this came out in 1994 and I remember that era quite well. With the final releases of Miles Davis,not to mention the works of MC Solaar and Guru's Jazzmatazz series it was apparent that the present stage of electric jazz in particular would lay in hip-hop. Thus begun the sub genre of jazz-hop or hip-bop,which actually may have something to do with this record label. This is a very all encompassing all start cast with musicians than still active and making vital music. And they all shared in an important musical vision: to unite the obviously similarly motivated genres of hip-hop and jazz without robbing one or the other of it's important flavors. And speaking for myself it was very well done here anyway.
With Herbie Hancock,Lenny White,The Brecker Brothers,Tom Browne,Marcus Miller and Bernard Wright all contributing the musical energy on every end is incredible. Two Hancock compositions are presented. The first starts everything out with a rhythmic hip-hop funk take on "Chameleon". Muckhead provides raps to this and many of the songs here. And they are the most intelligent and musically descriptive raps this side of Us3. If only all rap/hip-hop could extend from this method. "Hopstotch" loses none of the high octane hip-hop/funk energy and the same goes for the closer "Square Park Sunday". "Cats" is a flat out funky affair led by the Breckers,who help keep the groove going on and on. On "Hot Jazz Biscuits" there's more of a swinging jazz rhythm to the affair as Tom Browne delivers a somewhat Miles-like tone on trumpet. The finest composition here is "First Flight" with "Jamaica boys" Brown,Miller and 'Nard adding to a wonderfully harmonized melody with a complex groove. "Here I Go Again" is in a very similar vein with Muckhead rapping along with Dziko's expressive and throaty vocals. The Cannonball Adderley composition "Sake O Woe" brings Kenny Garrett into the fold with Browne again a substitute Miles as it were. Here more obviously so.
The gentler "For My Mother" and a slower,funkier hip-hop era take on "Watermelon Man" round out this powerfully grooving set. Over the years I've often raised an eyebrow at hip-hop,very much the child of funk,having this tendency to try to defeat it's parent genre. After all,conflict with family exists in art as it does in life. In musical terms this album is an excellent example of family cooperation at work. Funk and hip-hop coexist very well here. And whose the mediator involved? It's jazz. The genre of jazz is something every one of the participants in this project have in common. And it's what unites the hip-hoppers and the somewhat older school funk musicians together. I could go on quoting this forever. But it does so often seems that the very nature of jazz is a musical argument with the INTENTION to work something out. And I cannot help but noticing how,all too often a musical genre that is very polarized and controversial in the public eye is often presented in a far less intimidating manner via jazz. It may not be commercially popular to present music in that fashion. But it's very creatively satisfying. And that's what happens with this album. ---Andre S. Grindle, amazon.com
Kilka lat przed ukazaniem się Urbanatora została wydana płyta Milesa Davisa Doo Bop (1992). Stała się ona dla Michała Urbaniaka potwierdzeniem wyboru nowego kierunku jego drogi muzycznej – łączenia jazzu i hip hopu. Album Urbanator wyznacza punkt zwrotny w karierze Urbaniaka – odejścia od fusion, przełamania pewnych granic rynku i wypłynięcia na nowe wody. Płyta powstawała kilka lat. Wpłynęły na to głównie poszukiwania muzyczne Urbaniaka i, można powiedzieć, współlidera – Lenny'ego White'a, ale także problemy ze znalezieniem wytwórni, która chciałby wydać ten materiał. Ich czteroletnie starania nie przyniosły rezultatów i dopiero zainteresowanie i zaangażowanie w realizację tego projektu Yusufa Ganhdiego, jednego ze współzałożycieli Silva Screen Records, doprowadziło do utworzenia specjalnej firmy Hip Bop Records przy tej wytwórni. Firma ta miała wydać serię płyt, z których pierwszą był Urbanator.
Do pracy nad płytą Urbaniak zgromadził doborowy skład. W nagraniu wzięły udział największe postaci amerykańskiej sceny jazzowej. Wystarczy wymienić Herbiego Hancocka, Kenny'ego Garretta, Michaela Breckera i Randy'ego Breckera. To tylko niektórzy, gdyż muzyków jest tylu, że każdy utwór na płycie jest wykonywany w innym składzie. Na płycie jazz dominuje nad hip hopem, kompozycje mają strukturę jazzową i są wykonywane jazzowo. Hiphopowy groove gra tu drugie skrzypce i jest podkładem improwizacji m.in. braci Breckerów, Toma Browne'a i Urbaniaka. Uwagę skupiają także aranżacje, piękne harmonie i przejrzyste faktury Urbaniaka, wyrafinowane pomysły Lenny'ego White'a, Bernarda Wrighta, Ala MacDowella i Jona Brydena.
Urbaniak przearanżował perełki jazzowe. Płytę rozpoczyna funkowy "Chameleon" Hancocka oraz zawiera drugi jego utwór – "Watermelon Man" z pozmienianymi harmoniami i rytmem przygotowanym przez White'a. Na płycie jest też polski utwór – "Cats" Krzysztofa Komedy zagrany w rytmie tanecznym, z Michaelem i Randym Brecker, Lennym White'em i Bernardem Wrightem w składzie. Płyta zawiera także kompozycję "Sack I' Woe" Julliana Adderley'a z niesamowitą partią solową Kenny'ego Garreta. Do "świeżych" utworów należą "Hot Jazz Biscuits" Lenny'ego White'a z luźnym jazzowym feelingiem zasamplowany pod rappera. Razem z "First Flight" trafia on w samą istotę hip bopu, zaś "Here I Go Again" oraz aranżacja "Chameleon" i "Hot Jazz Biscuits" mogą śmiało mierzyć się z twórczością grup Us3. Na uwagę zasługuje również zaaranżowany przebieg płyty, w której następują momenty uspokojenie, jak w "First Flight" Bernarda Wrighta, a nawet totalnego wyciszenia, w balladzie Uraniaka "For My Mother". Płytę kończy "Square Park Sunday", kojarzący się z końcem tygodniowego rytmu Manhattanu. Płyta Urbanator jest właśnie muzyką pulsującą rytmem wielkiego współczesnego miasta. Jakże jest ten rytm różny od klimatu kolebki jazzu – Nowego Orleanu z przełomu XIX i XX wieku, który oddaje chociażby utwór "Przechadzka z Panem Joplinem" ze Suity Nowoorleańskiej Tadeusza Ehrhardta. Nowe wody, na które wpłynął Urbaniak z tą płytą przyniosły m.in. następne części Urbanatora (II, III). Połączenie jazzu i hip hopu w jego muzyce trwa do dziś, czego przykładem jest Miles of Blue (2009). ---Piotr Królikowski, radiojazz.fm
download (mp3 @320 kbs):
yandex 4shared mega mediafire cloudmailru uplea
Last Updated (Thursday, 09 June 2016 14:26)