Toshi Tsuchitori – Breath (1980)
Toshi Tsuchitori – Breath (1980)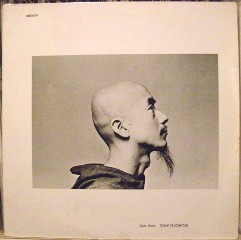 A1 	Natural Voice Vibration 	
A2 	Natural Voice With Bamboo Flute 	
A3 	Natural Voice With Bamboo Flute 	
A4 	Bolivian Flute Solo 	
B1 	Natural Voice With Harmonium And Wind 	
B2 	Natural Voice With Cello

Toshi Tsuchitori – drums, voice

Subtitled "Solo Voice".

This music is dedicated to the creator of Breath.

A3 performed on December 13, 1979, Theater Onze, Lausanne, Switzerland.
A4 performed on February 6, 1980, A.R.C. Musee D'art Modern, Paris.
B1 performed May 19, 1980, Tee Tree Gulley Hill, Adereida, Australia.
B2 performed December 12, 1979, Theater Onze, Lausanne, Switzerland.

Born in Kagawa, Japan in 1950, Toshi Tsuchitori has worked with Milford Graves, Derek Bailey, Evan Parker, Steve Lacy, and theatre director Peter Brook, to name just a few. From the 1980s to 2002, he recorded four works that explore ancient Japanese instruments: "Dōtaku: Ancient Japanese Bronze Bells from Yayoi Period (b.c. 400 - a.d. 250)", "Sanukaito: Stone Sounds of the Paleolithic Era in Japan", "Jōmonko: Pottery Drums of Jōmon Period (b.c. 3000 - b.c. 2500)" and "The Sounds of Prehistoric Painted Cave: Playing in the Cave of Cougnac, France", and he continues his extensive research on Asian and African music and dance to this day. --- cafeoto.co.uk
Toshi Tsuchitori was born in Kagawa prefecture of Japan in 1950 and began performing on Japanese traditional drums at an early age. Since the 1970s he has performed internationally with specialists in free improvisation such as Milford Graves, Steve Lacy, Derek Baily and others.
He began working with Peter Brook's theatre group in 1976, and has since created the music for productions including Ubu, The Conference of the Birds, L'Os, The Mahabharata, The Tempest, The Tragedy of Hamlet and Tierno Bokar. He has studied traditional music from all over the world and for over a decade has been sesearching the earliest strata of Japanese music and presenting the results as musical performances. He has released a series of three recordings of prehistoric Japanese sounds entitled Dotaku, Sanukaito and Jomonko.
He has written two books: an autobiography, Spiral Arms, and a study of the music of prehistoric Japan, The Sounds of Jomon. --- grotowski-institute.art.pl
Toshi Tsuchitori urodził się w 1950 roku w prefekturze Kagawa w Japonii. Bardzo wcześnie nauczył się grać na tradycyjnych japońskich bębnach. Od lat 70. gra z wybitnymi improwizatorami, m.in. Milfordem Gravesem, Steve'm Lacy i Derekiem Baily.
W 1976 roku rozpoczął współpracę w zespołem Petera Brooka. Stworzył muzykę do przedstawień Ubu, Konferencja ptaków, Kość, Mahabharata, Burza, Tragedia Hamleta i Tierno Bokar.
Tsuchitori studiuje muzykę tradycyjną z całego świata. Od ponad 10 lat prowadzi badania najwcześniejszych form muzyki japońskiej, a ich rezultaty prezentuje w formie występów. Wydał trzy albumy zawierające prastare japońskie dźwięki: Dotaku, Sanukaito i Jomonko.
Jest też autorem dwóch książek – autobiografii Spiral Arms i studium muzyki dawnej Japonii pt. Dźwięki z okresu Jomon. --- grotowski-institute.art.pl
download (mp3 @320 kbs):
salefiles yandex 4shared mega mediafire zalivalka cloudmailru uplea