Mahavishnu Orchestra - 1973-12-28 - New York City
Mahavishnu Orchestra - 1973-12-28 - New York City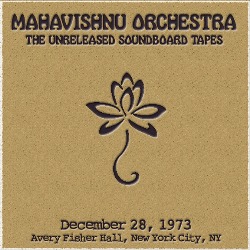 01. You Know, You Know 5:42 
02. I Wonder 9:10 
03. Awakening 19:52 
04. Hope 1:48 
05. Vital Transformation 7:06 
06. Dream 24:31

Line Up:
Billy Cobham - drums
Jerry Goodman - violin
Jan Hammer - keyboards
Rick Laird - bass
John McLaughlin – guitar

This Mahavishnu Orchestra performance, recorded on the second night of a two-night stand at New York City's Avery Fisher Hall, captures one of the very last performances ever by the legendary original lineup. Although missing the beginning of the set, what is available here is a fascinating glimpse of the group at the tail end of their existence. In July of 1973, Mahavishnu Orchestra convened at London's Trident Studios to record their ill-fated third studio album. By this point, the relationships within the band were strained and the resulting recordings, which for the first time featured compositions by band members other than McLaughlin, would not see the light of day for several decades. In August and September, McLaughlin and Cobham embarked on a tour with Carlos Santana, further straining the relationships within the band, which would dissolve by the end of the year. The initial classic lineup of the group lasted less than three years and only released two studio albums and one live recording during this era, but these recordings had a profound effect, redefining the jazz/rock fusion movement in the process. Combining the improvisational elements of jazz with the volume and energy of rock music, Mahavishnu Orchestra created music that was often intricate and complex, performed by musicians whose virtuosity thrilled audiences, musicians and critics alike.
While an argument can be made that the band was more cohesive and eloquent earlier in their all-too-brief career, the performances toward the end of 1973 are simply staggering in their ferocity. This night's recording begins in progress, with the group exploring the infectious groove of "You Know, You Know," one of the most popular compositions from their debut album, The Inner Mounting Flame. Next up is Jerry Goodman's composition, "I Wonder." Recorded during the Trident sessions several months prior and recorded again in 1974 by Goodman and Hammer for their Like Children album following the breakup, this version features expansive improvisations, beginning with an emotional solo from McLaughlin that relies more on bluesy string bends and a fat biting tone as opposed to speed. Goodman and Hammer both take impressive solos as well. Shortly after the nine-minute mark, Cobham launches the band into a furious version of "Awakening." A tape change misses a few seconds of this (approximately 1:15 in), but it is otherwise complete. "Awakening" is divided into three distinct sections, each focused around an outstanding solo from one of the band members, bridged together by reinstatements of the original theme. First up is Jan Hammer. The entire band drops out to allow him free reign and he begins by establishing a bubbling foundation with his sequencer and then builds layers of demented synthesizer solos on top of it. This entire section is quite remarkable, not only for its originality and extended length, but also for the fact that only one musician is creating such a barrage of sound. As the band begins joining back in, an intense jam leads into McLaughlin's solo. This solo is so ferocious that it defies description and is well beyond the usual intensity level, bordering on the transcendent. One of the most fascinating facets of this section is that McLaughlin repeatedly references John Coltrane's classic "A Love Supreme," which was fully explored on the recent tour with Santana and obviously still on his mind. Following McLaughlin's explosive solo, Cobham joins back in for a monumental guitar/drum duel that is simply jaw-dropping. Nearly 20 minutes after it began, the original theme of "Awakening" is reinstated and they bring it to a climactic close.
The version of "Hope" that follows unfolds in an elegant, magisterial way and provides listeners with a brief break in the relentless intensity that preceded it. However, this lasts less than two minutes before Cobham signals one of their classic turn-on-a-dime transitions. To fully pummel the audience into submission, they close the set with "Vital Transformation." In 9/8 time, this contains some of the most furious playing that the band would ever achieve. Charismatic, powerful and blazing with energy, this is a tour-de-force blend of all the elements that comprised the bands music; jazz, rock, funk and R&B condensed into six minutes of pure power. Jerry Goodman's violin flights are particularly aggressive here, and both he and McLaughlin, who has a deliciously nasty tone to his guitar, are blazing. Herein also lies a distinct difference in the band's playing toward the end of 1973. While they were always masters of call and response, here they sound like they are engaged in battle, trying to cut each other with every line. While many fans of the group prefer the more cohesive nature of the improvisations earlier in their career, there is no denying that they are playing at a frighteningly intense level here.
They return for an encore and deliver a version of "Dream" that again takes the improvisational approach to the extreme. There is an abundance of exploratory and propulsive playing here, but one of the most interesting aspects of this performance is that McLaughlin plays the first sequence on acoustic guitar. He only did this toward the tail end of the original lineup's existence and it is far more compelling than the live version featured on Between Nothingness And Eternity, recorded the previous August. Often this initial sequence was merely a dreamy contemplative introduction to the fireworks to come, but here it is absolutely beautiful and McLaughlin's playing has far more depth and character and Goodman's haunting violin phrases are all the more compelling for it. As the second, faster section begins, Hammer unleashes his trademark unusual chords and arpeggios on his Fender Rhodes as the band begins building an elegant melody line. This becomes a head-spinning exercise as McLaughlin and Goodman lock together in unison driving the main section of the composition. This is fast and furious playing at its most intense, with various duets emerging in and out of the fray. This is a jaw-dropping performance that is simply overflowing with energy; seemingly superhuman in its seething intensity.
download (mp3 @320 kbs):
uploaded yandex 4shared mega solidfiles zalivalka cloudmailru filecloudio
Last Updated (Sunday, 25 January 2015 14:58)