De-Phazz - Prankster Bride (2016)
De-Phazz - Prankster Bride (2016)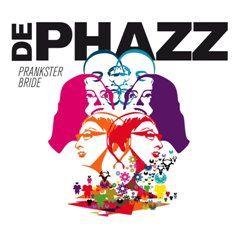 01. Used (03:10)
02. Used (Reprise) (02:21)
03. Apple & Egg (02:57)
04. Invisible To Myself (03:17)
05. Prankster Bride (02:27)
06. Hangover DeLuxe (01:38)
07. Berlin Bad (03:35)
08. Soulflakes (04:10)
09. Down Waterloo (03:09)
10. Perfect World (03:55)
11. Fireball (03:35)
12. I Sing (Feat. Pat Appleton) (04:01)
13. Freaky (03:39)
14. Kraut 2016 (05:28)

Pedal Steel Guitar – Bernd Langer
Trumpet, Flugelhorn – Joo Kraus
Vocals – Pat Appleton (1,5,7,10,12)
Drums – Oli Rubow
Vocals – Barbara Lahr (3,9)
Electric Piano [Rhodes Piano] – Ulf Kleiner
Saxophone – Frank Spaniol
Vocals – Cherry Sanders (4)
Trombone [Trombone-lick] – Otto Engelhardt
Guitar – Adax Dörsam
Guitar – Ralf Oehmichen
Percussion – Marc Essien
Vocals – Angel J.   (13)
Drums – Jan Fride
Vocals – Jutta Glaser  (14)

DePhazz are back with an album that features five different vocalists, with Pat Appleton, longtime lead singer for the group, contributing five pieces, the cool and relaxed opening track "Used" among them. Other vocalists on the album are Barbara Lahr (also a longtime contributor), Angel J., Jutta Glaser, and Cherry Sanders.
Barbara's distorted vocal on "Apple & Egg", together with a guitar-led electronic cushion, is getting better and fancier with each listen, even though the track, as most of the pieces, is pretty short (most of the songs are in the 3-minute range). The reggae-fied "Invisible To Myself" features Cherry Sanders on vocals, sparse and bare and in the back – a perfect lounge piece and a typical DePhazz track which echoes the mood and sounds and the group's forte and what we've come to adore about them.
I'm not really into the title track, a silly little piece that sounds like plastic. "Berlin Bad" on the other hand, has that irresistible DePhazz carpet consisting of cute vocals (Pat Appleton), lighthearted keyboards and the art of creating that sweet backdrop that has become a trademark for the group. Mastermind Joo Kraus is sprinkling his trumpet and flugelhorn throughout the pieces and producer Pit Baumgartner has come up again with the perfect loungy soundtrack, best exemplified maybe on the instrumental "Soulflakes", a grooving, spherical piece. The lounge factor is present on all of the tracks here, but the group manages again never to move the tunes into too cheesy or synthetic territory.
Barbara's second track here, "Down Waterloo", a sweaty, rolling, reggae-induced midtempo cut, is another little highlight. There is a sweet melancholy on "Perfect World", where Pat shows her gentle and almost sweet side. More eerie and haunting sounds are displayed on "Fireball", another instrumental harking back to the early days of the group in the late 90s. I can't find any joy in "I Sing", a dub track with a male choir that just sounds like another pseudo-comical pop lure. Things get rocky on "Freaky", a track that heavily reminds me of George Michael's "Faith" and which is led by Angel J. --- ginalovesjazz.com
download (mp3 @320 kbs):
yandex 4shared mega mediafire uloz.to cloudmailru gett