Matt Bianco – Gravity (2017)
Matt Bianco – Gravity (2017)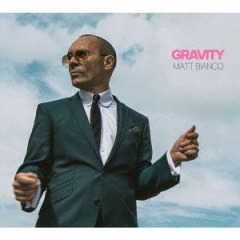 1 	Joyride 	
2 	Invisible 	
3 	Gravity 	
4 	Heart In Chains 	
5 	Solace 	
6 	Summer In The City 	
7 	Before It's Too Late 	
8 	AM/PM 	
9 	Paradise 	
10 	The Autumn Leaves Are Falling 	
11 	Ooh Wee 	
12 	Joyride (Mark De Clive Lowe Remix)

Some things just get better with time. Red wine and self-confidence, for instance, or Matt Bianco. The legendary British group, named after an imaginary Sixties superspy in the Eighties, is adored around the world for hits like "Half A Minute", "Get Out Of Your Lazy Bed", "Whose Side Are You On?", or "Yeh Yeh". For their fifteenth album "Gravity", front-man, vocalist and songwriter Mark Reilly recruited a superb new band featuring Swedish sax- and flute-star Magnus Lindgren and a large chunk of Jamie Cullum's group. Their mission: reviving and modernizing Matt Bianco's Bossa- and Jazz-roots, while keeping the easy going swing of former successes, built around the singularly recognizable Dry-Martini-voice of Mark Reilly. The result is an energetic, yet relaxed collection of ten original songs, with enough gravity to please their most sophisticated admirers and plenty of new fans, who might have been bitten by the Jazz-bug via a Gregory Porter or Jamie Cullum. ---Product Description, amazon.com
The british jazz band Matt Bianco have had their fair share of ups and downs. After a run of UK chart singles between 1984 and 1989 including HALF A MINUTE, GET OUT OF YOUR LAZY BED, DON'T BLAME IT ON THAT GIRL / WAP-BAM-BOOGIE and YEH YEH, the group was struck by tragedy in December 2016 when their co-leader and keyboard player Mark Fisher died aged just 57. Keen to carry on the legacy, founder and lead vocalist Mark Reilly vowed to carry on performing under the Matt Bianco name, resulting in the release of a new studio album GRAVITY.
GRAVITY is Matt Bianco's thirteenth studio album (excluding compilations) and follows last year's THE THINGS YOU LOVE, a collaboration with Holland's New Cool Collective funky jazz band. Recorded live in the studio, the 11 track album revives and modernises Matt Bianco's Bossa and Jazz roots while maintaining the easy-going swing of their former successes.
Described as "somewhere between Lee Morgan's SIDEWINDER and War's LOWRIDER", the album's opening track JOYRIDE immediately sets the tone, with its laid back, feel-good summer feel, a vibe which continues on uptempo groovers like SUMMER IN THE CITY and INVISIBLE.
Reilly assembled an all-star band to record on the album with a supporting cast of noted British jazz musicians, including saxophonist Dave O'Higgins, bassist Geoff Gascoyne, pianist Graham Harvey, trumpeter Martin Shaw and Swedish sax and flute star Magnus Lindgren, all performing on the album. The array of talent clearly shows in the material with the Latin inspired PARADISE and the swinging shuffle AM PM, standing out as highlights, as well as the mellow BEFORE IT'S TOO LATE which features a wonderfully emotive sax intro by O'Higgins.
The pace slows for SOLACE, a deep, dark, blue ballad and HEART IN CHAINS, a lovely nocturnal piece which combines the Dry Martini-voice of Reilly with the smooth and soulful vocals of Elisabeth Troy, a hart-hitting vocalist in her own right.
The title track GRAVITY draws on anorganic jazz combo sound with excellent jazz piano by Harvey. The album closes with a bonus remix of JOYRIDE by Mark De Clive which loosens up the groove, giving it a laidback ambience.
Classy, cool and sophisticated, GRAVITY's collection of eleven original songs boast enough gravity to please their most ardent admirers and win over plenty of new fans. All in all, a strong studio album which encapsulates the stylistic essence of Matt Bianco. ---franklymydearuk.co.uk
download (mp3 @320 kbs):
yandex 4shared mega mediafire uloz.to cloudmailru gett