Krzysztof Komeda – Rosemary's Baby, Vampire Killers (1998)
Krzysztof Komeda – Rosemary's Baby, Vampire Killers (1998)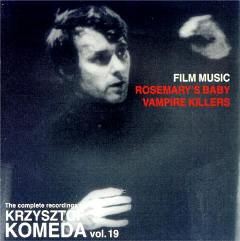 Rosemary's Baby

1.    Main Title
2.    The Coven
3.    Lullaby - Part I
4.    Moment Musical
5.    The Coven
6.    Moment Musical
7.    Lullaby - Part II
8.    Dream
9.    Christmas
10.    Expectancy - Part I
11.    The Coven
12.    Lullaby
13.    The Coven
14.    Main Title
15.    Panic
16.    Rosemary's Party
17.    Expectancy - Part II
18.    Through the Closet
19.    What Have You Done to Its Eyes
20.    Happy News
21.    Main Title

Fearless Vampire Killers

22.    Main Title
23.    Sarah in Bath
24.    Snowman
25.    Koukol Laughs
26.    Alfred Behind Sledge
27.    Sarah Asks for a Bath - Love Tune
28.    Krotock on Sledge
29.    Vampire Corners
30.    Shagal Leaving
31.    To the Cellar
32.    Skiing
33.    Portraits
34.    Alfred Hears Singing
35.    Vampires to Crypt
36.    Both Over Rooftops
37.    Sarah's Song
38.    Alfred over Rooftops
39.    Alfred in the Crypt
40.    Herbert's Song
41.    Main Title

This CD has two soundtracks, Rosemary's Baby and Fearless Vampire Killers, by Krzysztof Komeda, a jazz composer who worked on some of Roman Polanski's movies in the 1960s.
These scores use two different approaches. Rosermary's Baby is from 1968 and has beautiful use of harpsichord, chanting and spook atmospheres that you would expect from a film about spawning the Devil's kid. It is no way rock, but the floating textures mixed with the baroque instrumentation does allude to some of the baroque, post-Sgt. Pepper rock so big in '68.
Fearless Vampire Killers is more strict in its classical approach, using orchestration more conventionally. But there is a creepy ambiance to this score as well, even if it is more subtle than on Rosemary's Baby. And when the music heats, listen to the flute-driven "To The Cellar." the radiation is powerful.
Both these soundtracks are studies in texture and nuance and overlap classical and jazz in unique ways, and you would be missing out not to check both out on this CD. Komeda, by the way, also scored Polanski's Cul De Sac. In the 1990s, a Euro-pop band took his last name, and their album What Makes It Go will set you back all of four bucks WITH shipping, and is worth ten times that price. ---Bill Your 'Free Form FM Print DJ, amazon.com
download (mp3 @320 kbs):
uploaded yandex 4shared mega solidfiles zalivalka cloudmailru filecloudio oboom
Last Updated (Thursday, 08 January 2015 15:09)