Krzysztof Komeda - Komeda Plays Standards (2009)
Krzysztof Komeda Sekstet - Komeda Gra Standardy (2009)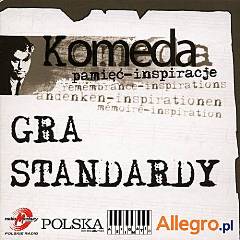 1 	Kotek w chmurach 		5:52  (rec. 11.11.1956)
2 	Memory of Bach 	7:05 	(rec. 11.11.1956)
3 	Svensky in B 	7:27 		(rec. 23.09.1957)
4 	Out Of Nowhere 		4:17 	(rec. 20.02.1957)
5 	The Continental 	5:21 	(rec. 20.02.1957)
6 	The Song is You 	4:59 	(rec. 09.05.1957)
7 	Chico II 		3:35 	(rec. 18.06.1957)
8 	Chico III 	5:38 	(rec. 18.06.1957)

Krzysztof Komeda Trzcinski – piano
Stanislaw Pludra – alto saxophone
Jan Ptaszyn Wroblewski – baritone saxophone, clarinet
Jan Zylber – drums
Jozef Stolarz – double bass
Jerzy Milian – vibraphone
Zdzialaw Brzeszczynski – trumpet (5)

Komeda's role in Polish jazz cannot be explained in just a few sentences. Words like: genius, composer, visionary, collaborator and leader cannot fully describe him. How could this talented but not by any means virtuoso pianist with a medical degree make such a great impact on Polish jazz? How could all of the musicians who played with him emphasize what an overwhelming impact his music and his personality made on them? Komeda's long time collaborator Tomasz Stańko commented:
"Komeda was a very quiet man. At rehearsals he told us nothing, nothing. He would give us a score and we would play and the silence was very strong and intense. He wouldn't say if we were right or wrong in our approach. He'd just smile. He was such a strong force, the music was so original and he always gave me plenty of space for self-expression and interpretation...He showed me how simplicity is vital, how to play the essential. He showed different approaches, using different harmonies, asymmetry, many details. I was very lucky that I started out with him(...)"
His unique sound has to a lesser extent to do with conventional jazz-style timing, but rather with Slavic lyricism, 19th century Polish romantic music tradition, and a variable treatment of time during the course of his compositions. He is widely credited as being one of the founding fathers of thee uniquely European style of jazz composition.
During his life, Komeda released only one album, Astigmatic (Polskie Nagrania – Muza Recording Label), which the Penguin Guide to Jazz called "Simply - Essential!". A new release with more influence on Polish jazz has yet to be recorded. --- culture.pl
download (mp3 @320 kbs):
yandex 4shared mega mediafire zalivalka cloudmailru uplea
Last Updated (Thursday, 18 February 2016 18:00)