Curtis Haywood - Smooth Ingredients (2015)
Curtis Haywood - Smooth Ingredients (2015)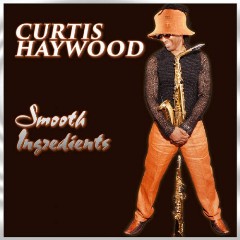 01. Smooth Ingredients
02. Hollywood Blvd
03. Smiles
04. I Want To Know
05. Mo-Bay
06. Optimistic
07. Funky Summer Groove
08. Standing O
09. Windows of the World
10. Tonight

Curtis Haywood – saxophone, soprano and alto
JJ Sansaverino - guitar 
Witnel Paul - keyboards
Travis Milner – bass, keyboards
Mel Holder – bass, tenor and baritone saxophone
Jose Asencio – bass
Tony Moore – drums
Paul Aponte – percussion

Smooth Ingredients is the long-awaited follow-up to Curtis Haywood's self-titled debut. The new album was produced with Grammy-Award® winning saxophonist Mel Holder, and it features JJ Sansaverino on guitar. The voice and passion of Curtis Haywood are clearly heard throughout each track and brings new life to the soulful interpretations of R&B favorites and contemporary jazz originals. Curtis continues to build a career of International jazz festivals, sharing the stage with such artists as Pieces of a Dream and Smooth jazz Pioneer Chieli Minucci of Special-FX. A child prodigy, Curtis Haywood moved from trumpet to saxophone at an early age. He studied at New York's High School for the Performing Arts and Boston's Berklee College. He went on to perform with New York jazz fusion group Joshua for several years before completing his self-titled debut solo in 2007, which went on to receive critical acclaim and steady airplay. --- mvdb2b.com
Curtis Haywood II is one of the most talented and outstanding jazz musicians of today. The Brooklyn, New York native was raised in a two parent household, along with his five siblings. His interest in music began at an early age, between his first and third-grade school levels. He started out playing drums, then trumpet, and would later end up on the saxophone. Haywood attended Manhattan's High School of Performing Arts.
"It was a phenomenal experience going to that school," says Haywood of the public alternative school. "It was a small setting, very tightly knit. I just absolutely knew from day one that music was what I wanted to do." He attributes his music career to his dad, as the two studied music together, side by side. Coming from a family of musical talents; however, he was the only one who took it to a professional level. "Early on, I could see how I excelled in music and I could see that it was the most prominent thing that I knew how to do and I knew how to do it well."
Haywood's advice to young people who are trying to find their way, is to really zero in on any gifting which they may have. "Whatever God has gifted you to do, that is primarily the calling He has put on you to do," he says. We all have a primary and secondary gift, but look for the gifting you most excel at, which will be the one that comes the easiest to you and that's the one you should be pursuing. It really is an internal search."
In our interview, he told us that his favorite instrument is clearly the saxophone. He said he had a love for bass and drums and if it weren't for his love for the saxophone, he would have been a bass drummer. "The saxophone is my voice. That is clearly a voice that I speak very well," says Haywood. He talked to us about his latest CD called "Smooth Ingredients" which consists a variety of flavors; Latin, Reggae, R&B, which are the staples of the ingredients; the terms that make up slow jazz. A gospel crossover song is also on the CD. The CD will be officially released first in Barbados at the Gospel Fest and then in the United States on May 30th, when he will open up for Pieces of A Dream, one of the pioneers of smooth jazz. Their mentor, Grover Washington Jr., was also Haywood's main influence. "I listened to him in the 70's and 80's; especially in the 80's when he was making his mark," he said.
Haywood has opened for such music greats as The Stylistics, The Temptations, The Delfonics and Blue Magic to name a few. He caters his music based on the crowd he is playing for. His musical talent isn't only on the stage, as he is also a music teacher at a high school and he teaches privately. That's his connection to the local community; working with high school and elementary students, exposing them to jazz. One of his fond memories is when he opened up for comedian Sinbad, playing an all-time favorite hit "When a Man Loves a Woman." --- fuzionzmagazineandtv.wix.com
download (mp3 @320 kbs):
yandex 4shared mega mediafire cloudmailru oboom uplea
Last Updated (Thursday, 19 November 2015 16:51)