John Scofield & Pat Metheny – I Can See Your House From Here (1994)
John Scofield & Pat Metheny – I Can See Your House From Here (1994)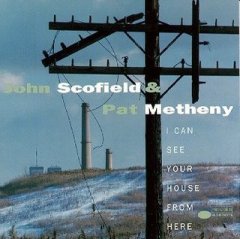 01 - I Can See Your House From Here      play
02 - The Red One 
03 - No Matter What 
04 - Everybody's Party 
05 - Message to My Friend 
06 - No Way Jose 
07 - Say The Brother's Name 
08 - S.C.O                        play
09 - Quiet Rising 
10 - One Way To Be 
11 - You Speak My Language

Line-Up:
John Scofield (electric & steel-string acoustic guitars);
Pat Metheny (electric & nylon-string acoustic guitars, guitar synthesizer);
Steve Swallow (acoustic & electric basses);
Bill Stewart (drums).

Superstar jazz recording sessions generally proceed with an abundance of ego and good intentions--yet rarely if ever is the sum equal to its parts. There's simply no substitute for empathy and forethought.
Or the mutual respect these master stylists display on I CAN SEE YOUR HOUSE FROM HERE. Scofield and Metheny represent two distinct takes on modern jazz and the electric guitar. Both come directly out of Jim Hall, the poet laureate of jazz guitar. Metheny's romantic "Say The Brother's Name" and "Quiet Rising," and Scofield's after hours blues "You Speak My Language" provide ardent settings for both guitarists to pay homage to their primary influence with suede, legato phrasings and supple harmonies.
But where Metheny's muse (and his immensely popular band) often tends toward rich layered harmonies and percolating Brazilian rhythms, Scofield is a hard blues, hard bop player, with more than a little touch of funk in his tone. Where Metheny flows, Scofield sort of barks and bites into his lines, as reflected by such ardent, jagged themes as "One Way To Be" and "No Way Jose."
Yet for all the stylistic differences, the sum of their collaboration is such that casual listeners might find it difficult to tell who's who. Scofield and Metheny touch on all sorts of dancing instrumental moods, leavened by modern jazz, flavored by rock, blues and Latin America, driven in style by bass guitarist Steve Swallow and drummer Bill Stewart. Beautifully recorded, I CAN SEE YOUR HOUSE FROM HERE is an authentic musical communion.
Recorded at The Power Station, New York, New York in December 1993. ---cduniverse.com
Guitar giants John Scofield and Pat Metheny teamed up for the first time on records for this CD. The collaboration does take awhile to get going and it is not until the fourth cut, the bluish "Everybody's Party," that the sparks begin to fly; fortunately the momentum does not let up much throughout the remainder of the CD. All of the selections (including two blues) are originals by either of the guitarists and, with the accompaniment of bassist Steve Swallow and drummer Bill Stewart, this varied set generally lives up to expectations.
Znakomitość do kwadratu, a nawet do czwartej potęgi!! Dwaj gitarzyści, tak przez krytykę, jak i fanów słusznie uważani za najwybitniejszych instrumentalistów w kategorii "gitara jazzowa" plus sekcja marzeń: Bill Stewart, perkusista niezwykle uzdolniony, czujny, kreatywny i niesamowicie muzykalny i legenda elektrycznego basu, Steve Swallow, jedyny, który na "basówce" potrafi grać tak cudownie "akustycznym" brzmieniem... do tego świetne kompozycje i... po prostu tego nie sposób opisać, trzeba się wsłuchać! Kapitalne solo (to oczywiste!), idealne porozumienie, pełne spektrum emocji: od ostrego jazz-rocka po delikatne ballady. Po prostu kosmos, pięć gwiazdek to za mało! --- Wojtek i Monika. merlin.pl
download (mp3 @320 kbs):
uploaded yandex 4shared mega solidfiles clicknupload cloudmailru filecloudio oboom
Last Updated (Wednesday, 24 December 2014 09:32)