Clark Terry & His Big Bad Band – Live In Warsaw 1978 (2009)
Clark Terry & His Big Bad Band – Live In Warsaw 1978 (2009)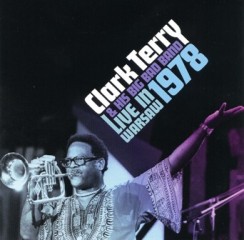 1. Blues in My Shoes 5:48
2. Just Squeeze Me 4:05
3. Straight, No Chaser 5:08
4. Big Bad Blues 4:43
5. Una MÁS 6:48
6. Warm Hearted Blues 3:32
7. Shell Game 8:24
8. Tee Pee Music 8:08
9. Blues for Clark 5:57
10. Moody Magic 6:10
11. Summit Song 10:14
12. Jones 9:44

Clark Terry, Mike Vax, Greg Bobulinski, Willie Cook, Willie Singleton (tp) 
Sonny Costanzo, John Gordon, Dede Shirley, Chuck Connors (tb) 
Chris Woods, Charles Williams, Herman Bell, Bill Saxton, Charles Davis (reeds) 
Hilton Ruiz (p)
Victor Sproles (b) 
Czeslaw Bartkowski (d)

Recorded live in Warsaw, on April 9, 1978.

An amazing 1978 live performance in Poland by Clark Terry's Big Bad Band!
This edition contains two Clark Terry performances from the mid 1970s, each showcasing the trumpet/flugelhorn player in a different context. Born in Saint Louis, Missouri, on December 14, 1920, Clark Terry began his career in the early 1940s and achieved long-lasting fame playing in some of the best big bands in jazz history. He was with Charlie Barnet in 1947, Count Basie between 1948 and 1951, Duke Ellington from 1951 to 1959 and Quincy Jones in 1960. Terry also recorded regularly with small groups and was part of the Thelonious Monk Octet in the late sixties (he can be seen here playing Monk's blues "Straight, No Chaser"). Active at well past 80-years old, he remains one of the last living jazz legends. As a leader, Clark Terry recorded several albums and fronted a noted quintet featuring trombonist Bob Brookmeyer, as well as a short lived but outstanding big band, which he called the "Big Bad Band". With the latter he is heard on the first of the performances here, a live concert recorded in Warsaw, Poland, on April 9, 1978. Among the best known names of the band during that gig, are trumpeter Willie Cook, who had been in the Duke Ellington orchestra, trombonist Sonny Costanzo and bassist Victor Sproles. The drummer seems to be a Polish replacement (he never recorded with Terry again). Our bonus album, Summit Meeting, recorded in 1976, marked a new collaboration between Terry and James Moody (both had recorded together many times in different contexts since 1961). Terry's recorded works with Bunky Green, on the other hand, are limited to this album, a single tune ("Feeling") from Green's album Transformations also recorded in November 1976, and Terry's 1990 album Having Fun, for which Green collaborated on just one number ("Don't Blame Me"). Terry's recorded works with Elvin Jones are equally scarce. --- jazzgazeta.blox.pl
Kapitalny koncert Clark Terry's Big Bad Band z Warszawy z roku 1978 był wielkim wydarzeniem w obozie demoludów. Nieczęsto się zdarzało aby za żelazną kurtynę zaglądał jazzowy zespół, który atomową energią sceniczną mógłby zagrozić twardemu rdzeniowi systemu socjalistycznego. Siedemnastoosobowy zespół w iście brawurowy sposób zaprezentował istotę big bandowego grania, skrzące się bluesem kompozycje, soczyste solówki, karkołomne pełne sonorystycznej odwagi partie dęciaków. Jednym słowem święto radości i wolności, gdzie spotyka się pierwiastek ludyczny z transowym. Wszystko to bardzo intrygujące i jednocześnie dalekie od banału i jazzowej sztampy
Zespół prowadzony przez znakomitego trębacza Clarka Terrego [grał w orkiestrach Counta Basiego w latach 1948-1951 oraz Duke'a Ellingtona w latach 1951-1959] z jednym Polakiem w składzie [Czesław Bartkowski na perkusji] porwał publiczność i na długo zapadł w pamięć jazzmanom.
Teraz PO RAZ PIERWSZY możemy posłuchać koncertu z płyty kompaktowej, zremasterowane nagranie daje wyjątkową możliwość pełnego obcowania z mistrzostwem Clark Terry's Big Bad Band. --- Andrzej Majak, jazzgazeta.blox.pl
download (mp3 @320 kbs):
uploaded yandex 4shared mega mediafire solidfiles zalivalka cloudmailru oboom