Chet Baker - Live in '64 and '79 (Jazz Icons) [2006]
Chet Baker - Live in '64 and '79 (Jazz Icons) [2006]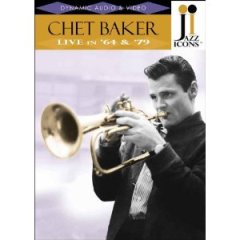 Belgium, 1964
1.Bye Bye Blackbird; 
2.Isn't It Romantic; 
3.Airegin; 
4.Time After Time; 
5.So What

Norway, 1979

6.Blue Train; 
7.Softly, 
8.As In A Morning Sunrise; 
9.Five Years Ago; 
10.Love For Sale

Chet Baker - Flugelhorn, Trumpet, Vocals
Michel Graillier 	- Piano
Wolfgang Lackerschmid - Vibraphone
Franco Manzecchi - Drums
Jacques Pelzer - Flute, Sax (Alto)
Jean-Louis Rassinfosse - Bass
Luigi Trussardi - Bass
René Urtreger - Piano

In the summer of 1963, Baker pawned his trumpet for dope money. When a French musician came to his aid by loaning him a flugelhorn, Baker found himself enamored with the mellower sound of the slightly larger instrument and ended up playing it for years. It is the wider belled flugelhorn that Baker is playing in the thirty-plus-minute program from Belgian television included on this DVD.
The quartet he chose to play with—Belgian alto saxophonist and flautist Jacques Pelzer, the French pianist Rene Urtreger and the Italian battery of Luigi Trussardi on bass and Franco Manzecchi on drums—was superb. Pelzer was a part-time musician and full-time drug store owner who became one of Baker's closest friends, playing with him in countless shows as early as 1962 and continuing through at least the late 1970s. The classically trained Urtreger had toured with Miles Davis in 1956 and 1957 and played on Davis' French recording Ascenceur pour L'Echafaud. He played with Baker as early as June 1963. Over the course of his career, Urtreger also accompanied such visiting jazz luminaries as Don Byas, Buck Clayton, Dizzy Gillespie, Stan Getz and Lee Konitz. Trussardi and Manzecchi were also first call accompanists for many visiting American musicians, collectively and singly gigging and/or recording with Eric Dolphy, Donald Byrd, Dexter Gordon, Hank Mobley, Teddy Wilson and France's own Stéphane Grappelli.
While the set is short, the five songs the Chet Baker Quintet performed that night in Brussels cover a lot of ground. On the opener, "Bye Bye Blackbird," Baker's tone is both strong and airy at the same time. Notice the way he draws emotion out of his mostly mid-register lines by inflecting pitches slightly flat. Also note the contrapuntal long notes played by Baker under Pelzer's solo and the counterpoint woven by Pelzer at the end while Baker restates the head.
The highlight of the set and perhaps of this whole DVD is the drummer-less quartet's near-fifteen-minute version of Cole Porter's "Love For Sale." Baker had recorded the tune in 1977 in a funk version with Michael Brecker, John Scofield, and Tony Williams on the LP You Can't Go Home Again. Here Baker unleashes all the stops, demonstrating a tremendous sense of time and mastery of breath while Rassinfosse plays a tension-inducing call and response bass ostinato. In many respects, this performance represents a rocking aesthetic that is diametrically opposed to Baker's usual cool. It burns from beginning to end and like all great performances leaves you wanting more.
Taken together, these two shows, filmed fifteen years apart present Baker playing in very different contexts. Given his loss of teeth following his 1966 beating and his crippling drug addiction that dominated the majority of his waking hours in that fifteen year interval, it is remarkable how consistent his overall aesthetic is. This is chamber jazz at its most delicate, relying on a refined sense of dynamics, melodic invention, counterpoint and, most importantly, emotional vulnerability. As a whole, it contains all the reasons why, despite his personal problems, Chet Baker remains one of the finest soloists and vocalists in the history of jazz. ---Rob Bowman, jazzicons.com
download: uploaded yandex 4shared mediafire solidfiles mega zalivalka cloud.mail.ru filecloudio anonfiles oboom
Last Updated (Sunday, 17 August 2014 20:03)