Benny Goodman And His Orchestra ‎– Featuring Great Vocalists Of Our Times (1965)
Benny Goodman And His Orchestra ‎– Featuring Great Vocalists Of Our Times (1965)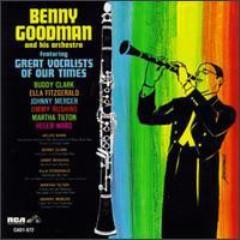 1 	–Ella Fitzgerald 	Goodnight My Love 	
2 	–Martha Tilton 	The Lady's In Love With You 	
3 	–Johnny Mercer 	I Sent For You Yesterday And Here You Come Today 	
4 	–Helen Ward 	Between The Devil And The Deep Blue Sea 	
5 	–Buddy Clark 	I'm Livin' In A Great Big Way 	
6 	–Ella Fitzgerald 	Did Ja Mean It (Hope You Did-'Cause So Did I) 	
7 	–Martha Tilton 	Thanks For The Memory 	
8 	–Helen Ward 	There's A Small Hotel 	
9 	–Jimmy Rushing 	He Ain't Got Rhythm 	
10 	–Johnny Mercer 	Cuckoo In The Clock

The mid-to-late 1930s were the golden years of Benny Goodman's group. He had several different "girl singers" (as they were called) during this stretch. The first full-time singer was Helen Ward, who sang with Goodman from 1934 to 1936, although Goodman did record one-offs with a few singers during this stretch, including Ella Fitzgerald. It's thought that a failed relationship with Goodman convinced Ward to leave the group.
Helen Ward was replaced by Martha Tilton, who performed with Goodman at the famous Carnegie Hall concert. After Tilton became sick, she was replaced by Louise Tobin, a bluesier singer, who also happened to be married to Goodman's lead trumpeter Harry James. When Tobin left in 1939, Goodman's band was in transition. A few temporary singers were brought in for a session or two, including one of the biggest stars of the day Mildred Bailey. Bailey was not a permanent fixture of Goodman's band—she worked with her husband Red Norvo. Rather she filled in with Goodman in 1939 when there was an opening.
Female singers were used most often to front Goodman's band, but on occasion, a male singer would step out in front. He did a few single sessions or short engagements with some well-known male singers, including Jimmy Rushing, Johnny Mercer, and even Frank Sinatra. But his full time male singers included Art London (also known as "Art Lund") and Dick Haymes.
One of the reasons Goodman didn't hire many male singers is because, whenever possible, he put himself behind the microphone. Benny Goodman sang on more Benny Goodman sides than any other male vocalist, and perhaps any vocalist, male or female. He had a nice voice: it was light and swinging with a bit of a Johnny Mercer quality to it, although probably not suited for a tender ballad. ---indianapublicmedia.org
download (mp3 @320 kbs):