Anna Maria Jopek – ID (2007)
Anna Maria Jopek – ID (2007)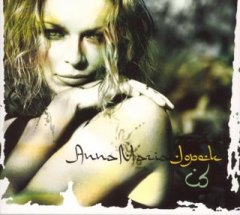 01. Sprobuj Mowic Kocham (05:54)
02. Teraz I Tu (04:47)
03. Zrob, Co Mozesz (05:54)
04. Claude (01:24)
05. Sklamalbym (04:11)
06. Soul Dealer (4:06)
07. To, Co Nienazwane (6:22)
08. Samej Cie Nie Zostawie (4:48)
09. Cisza Na Skronie, Na Powieki Slonce (3:59)
10. Z Wada Serca (4:14)
11. Niepojete I Ulotne (6:14)
12. Nagle (4:53)
13. Pierwszy Dzien Reszty Naszego Zycia (4:08) 

Anna Maria Jopek (vocals & piano)
Mino Cinelu, Manu Katche (percussion)
Christian McBride, Richard Bona (bass)
Tord Gustavsen (piano)
Oscar Castro-Neves (guitar)
Branford Marsalis (saxophones)
Dhafer Youssef (vocals, oud)
Arve Henriksen (vocals, trumpet)
Kayah (vocals)
Leszek Mozdzer (piano)
Marek Napiorkowski (guitar)
Krzysztof Herdzin, Pawel Zarecki (keyboards).

Anna Maria Jopek is as Polish as one can be – not only with her gentle beauty, but first of all with her music, coming straight from the heart. Yet her latest project features a bunch of true giants from around the world. The Brazilian bossa nova genius Oscar Castro Neves meets serene ECM recording pianist from Norway Tord Gustavsen. An exotic voice of Tunesian oud virtuoso and vocalist Dhafer Youssef blends with brave and adventurous notes of Branford Marsalis' soprano saxophone. Richard Bona's trademak Douala vocals and bass lines coexist with sensual French singing by percussion wizard Mino Cinelu. Manu Katche and Christian Mc Bride provide powerful grooves… yet then there is this amazing, sophisticated vocal (in fact – about a zillion of them so carefully layered!) by Anna Maria that makes it all work. That makes this dialogue of such different cultures not only possible, but fascinating to observe. That makes this music unique, one of the kind. Personal.
'All these people have been my inspiration for the last decade – Anna Maria says humbly. It's an amazing experience to have finally met them, to exchange energies and ideas, to learn from them and – hopefully – to create some original music with them in mind. I am Polish. I come from the vast meadows of central Poland, I've been brought up with its musical traditions, but it does not make my ID complete. Especially now, with the world getting so much smaller every single day. I truly believe that the new music might emerge from coexistance of so many so different voices, influences, traditions, religions. By far – this is the most important work I've ever done.'
In Poland ID went platinum in just two weeks. The triumphant tour, featuring Dhafer Youssef, Mino Cinelu and Richard Bona followed with sold out venues and standing ovations. Parts of these events will eventually turn into a one great live album in the fall of 2008. It was not, however, her first experience with the world-class masters and musical heroes. She's been known for probably the most influential and groundbreaking project in Polish popular music. ---annamariajopek.pl
download: uploaded anonfiles yandex 4shared solidfiles mediafire mega filecloudio
Last Updated (Wednesday, 13 November 2013 23:23)