Philippe Saisse Trio ‎– On The Level! (2017)
Philippe Saisse Trio ‎– On The Level! (2017)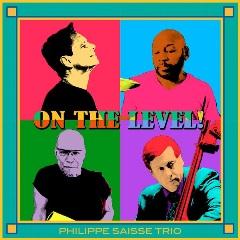 01. On The Level 
02. And So But Then (feat. Marc Antoine) 
03. She Takes My Breath Away 
04. Lucky Luke 
05. Custe O Que Custar 
06. Star of My Life (feat. Kelli Sae) 
07. Blue Rondo
08. Sunny (feat. Larry Braggs)
09. Waiting For Valentine 
10. Marienbad (feat. Marc Antoine) 
11. Sunny (Instrumental)

Tim Akers - Horn Arrangements, Wurlitzer
Marc Antoine - Guitar (Acoustic)
Larry Braggs - Vocals
Mark Douthit - Sax (Alto), Sax (Baritone), Sax (Tenor)
David Finck - Bass (Acoustic)
Rhett George - Vocals
Barry Green - Trombone 
Phil Nicolo - Vocals
Gumbi Ortiz - Percussion, Vocals
Steve Patrick - Flugelhorn, Trumpet
Nick Pike - Flute (Alto)
Kelli Sae - Vocals
Philippe Saisse - Keyboards, Marimba, Piano, Producer, Vibraphone 
Skoota Warner - Drums 

Exploding on the scene once again to add another star to his illustrious musical career, the well-versed and sophisticated French keyboardist/composer/producer Philippe Saisse seduces with his new Philippe Saisse Trio project called On the Level!, a brilliantly eclectic blend of C-jazz, splashes of fusion, glimpses of island exoticism, big band horns, soul, funk, and that in-the-pocket vibe he carries around with him like his ID. It's all here, proving that, yes, this is one consummate and artful artist.
While the group is called the Philippe Saisse Trio, there are actually four extraordinary artists here, and Saisse calls it a "trio plus one," fittingly and cleverly so. The band consists of keyboardist Saisse, drummer Skoota Warner, bassist David Finck, and vocalist/percussionist Gumbi Ortiz — all masters and professionals with whom to be reckoned on a large scale.
Everything here is loaded. From the in-the-pocket funky lead and title track to the exotically entrancing Portuguese charmer "Custe O Que Custar" (in English "Whatever It Takes") featuring the sultry vocals of Vanessa Falabella to the snappy mid-tempo groove of "Star of My Life" featuring one of my favorite vocalists — Count Basic's Kelli Sae — to the finger-poppin' "Blue Rondo" that combines funk and quality jazz in a way that has marked the Saisse brand. There is also a clean and marvelous cover of Bobby Hebb's "Sunny" (remember him?) featuring soulful vocalist Larry Braggs who kicks the emotional engines into full throttle.
Also joining the band as a guest is fellow Frenchman guitarist Marc Antoine who offers his talents on the cool and funky (as in salty and sweet) "And So but Then" and the melodic "Marienbad."
No doubt about, Saisse & Co. remain at the top of their game, delivering quality in a fashion that is undeniably regal. Get a taste of this one. ---Ronald Jackson, thesmoothjazzride.com
It was back in 2007, with his tight cover of the Steely Dan hit 'Do It Again', that the multi-talented Philippe Saisse had the surprise radio hit of the year. It was taken from the album The Body And Soul Sessions, a collection that was replete with shimmering examples of familiar, yet delightfully re-imagined, favorites. Two years later he followed up with the immaculate At Worlds Edge and since then, aided somewhat by relocation from New York to LA, he has become a 'go to' producer and performer with work for artists such as Peter White, Paul Brown and Rick Braun.
His latest collection is titled On The Level with the same-titled single, a wonderful example of contemporary jazz piano that features percussionist Gumbi Ortiz and guitarist Marc Antoine. The band consists of keyboardist Saisse, drummer Skoota Warner, bassist David Finck, and vocalist/percussionist Gumbi Ortiz. ---smoothjazzdaily.wordpress.com
download (mp3 @320 kbs):
yandex mediafire uloz.to cloudmailru gett