Monica Zetterlund - Monicas Basta (2001)
Monica Zetterlund - Monicas Basta (2001)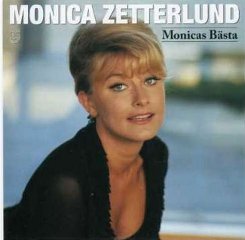 01. Sakta Vi Gå Genom Stan (Walkin' my baby back home) {3:24}
02. Gröna Små Äpplen (Little green apples) {3:47}
03. Att Angöra En Brygga {2:37}
04. I New York (Take five) {2:17}
05. En Man Och En Kvinna (Un homme et une femme) {3:06}
06. Farfars Vals {2:28}
07. En gång i Stockholm {3:06}
08. Monicas Vals (lWaltz for Debby) {3:30}
09. Den Sista Jäntan {6:11}
10. Rockin' Chair {3:01}
11. Visa Från Utanmyra {2:46}
12. Trubbel {4:24}
13. Mister Kelly {2:55}
14. Sweet Georgie Fame {3:21}
15. It Could Happen To You {3:01}
16. Va' E' De' Där (Dat dere) {2:55}
17. Alfie {3:35}
18. Var Blev Ni Av (Where did they go) {5:05}

Monica Zetterlund (born Monica Nilsson on September 20, 1937 in Hagfors, Värmlands län, Sweden, died May 12, 2005 in Stockholm, Sweden) was a Swedish singer and actress. She appeared in more than 20 films and television series, including The Emigrants (1971) with Liv Ullman and Max von Sydow.
Widely celebrated as the number one jazz singer in Sweden for over 40 years. Was rewarded with the medal Ilis Quorum by the Swedish government, for all her contributions to the cultural life of Sweden.
She started out singing in her father's band. She was admired for singing jazz in Swedish, instead of switching to French or English. She gained international acclaim when she toured the US in 1960, where she performed on "The Steve Allen Show". She suffered from scoliosis; during the last years of her career, she often had to be helped onto the stage, and sang sitting down.
download:  uploaded 4shared yandex mega anonfiles ziddu sugarsync zalivalka mixturecloud