Noel Pointer ‎– Hold On (1978)
Noel Pointer ‎– Hold On (1978)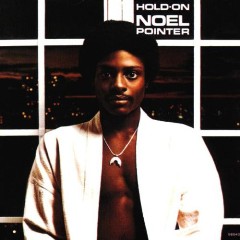 1. Hold On
2. Stardust Lady
-
3. Roots Suite:
	a.Introduction & Pastorale
    b.Mama Aifambeni
    c.Oluwa (Many Rains Ago) 
-
4. Superwoman (Where Were You When I Needed You?)
5. Staying With You
6. Movin' In
7. Capriccio Stravagante

Backing Vocals – Gwen Guthrie (tracks: A1, A3.a to B2), Lani Groves (tracks: B1, B2),
 Patti Austin (tracks: A1, A3.a to B2), Vivian Cherry (tracks: A1)
Drums – Steve Gadd (tracks: A1 to B4)
Electric Bass – Anthony Jackson (tracks: A2, A3.a to B2, B4), Francisco Centeno (tracks: A1, A3.a to A3.c, B3)
Electric Guitar – Eric Gale (tracks: A1 to B2, B4)
Piano, Synthesizer - Dave Grusin
Percussion – Ralph MacDonald (tracks: A1, B1, B2, B4)
Violin [Electric] – Noel Pointer (tracks: A1, A3.a to B1, B3, B4) 

The LP Phantazia was followed in 1978 by Hold On, an album which was still funky but which differed from its predecessor with the use of a bevy of vocalists, including Patti Austin. They chant the words of the title-track, an old gospel song. Noel Pointer even sings on Stardust Lady. He has a pleasantly innocent voice, although the song itself is rather slushy. He also sings on Patti Austin's composition Staying With You, sounding a bit like Neil Sedaka.
The three-part Roots Suite interprets some of the music that Quincy Jones, Dave Grusin and South African composer Caiphus Semenya wrote for the famous television series Roots. It captures the African atmosphere of the soundtrack, using chants, the thumb-piano and African-style percussion, with Noel Pointer's violin floating above.
Superwoman is another Stevie Wonder song, where Pointer's violin sounds beautifully ethereal. Pointer's Movin' In is a cleverly-structured piece which gives Noel plenty of opportunity to display his virtuosity. Capriccio Stravagante is Dave Grusin's arrangement of a piece by the 17th-century Italian composer Carlo Farina. The track begins and ends in stately classical mode with accompaniment from a string quartet, but in between comes an enterprising case of "jazzing the classics" which works very well.
Noel Pointer died in 1994, just before he would have been 40. I confess I had only vaguely heard of him but I am very glad to have been introduced to his eclectic abilities on these two LPs, reissued as a double CD. The sound quality is admirable. ---Tony Augarde, musicweb-international.com
download (mp3 @320 kbs):