Connie Evingson - Sweet Happy Life (2012)
Connie Evingson - Sweet Happy Life (2012)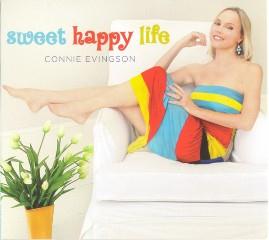 1 	Agua De Beber 	4:50
2 	Mediation 	5:40
3 	Slow Hot Wind 	3:59
4 	Sweet Happy Life 	5:32
5 	Killing Me Softly With His Song 	4:59
6 	Canadian Sunset 	6:20
7 	Watch What Happens 	4:38
8 	The Girl From Ipanema 	4:42
9 	Sway 	4:20
10 	Bluesette 	4:53
11 	How Insensitive 	4:32
12 	Take Me To Aruanda 	3:53
13 	So Nice 	4:59
14 	Adventure 	4:32
15 	I Will Wait For You 	4:58
16 	Tristeza 	5:21

Backing Vocals – Lucia Newell
Bass – Bob Bowman, Ryan Cross
Bass, Backing Vocals – Gordon Johnson
Drums – David Schmalenberger, Phil Hey, Rob Perkins
Drums, Percussion – Joe Pulice
Guitar – Andreas Oberg, Danny Embrey, Joan Griffith
Percussion – Josh Alvaro, Miles Hanson
Piano – Laura Caviani, Phil Aaron, Tanner Taylor
Saxophone, Clarinet, Flute – Dave Karr
Violin, Mandolin – Randy Sabien
Vocals, Producer – Connie Evingson

Norman Gimbel's name may not register with a lot of educated jazz fans, yet he's linked to some of the most important songs and artists in the music. Gimbel wrote the lyrics attached to harmonica ace Toots Thielemans' best known number, "Bluesette," captured Michel Legrand's musical moods in words on "I Will Wait For You" and "Watch What Happens," and opened up English-language ears to the world of bossa nova. His lyrics for many of Antonio Carlos Jobim's songs are known the world over, yet his name is rarely mentioned when these works are discussed. Minneapolis-based vocalist Connie Evingson is looking to right this wrong by shining a light in Gimbel's direction on Sweet Happy Life.
Evingson gathered sixteen numbers of all shapes and sizes that feature Gimbel's lyrics, including the never-before-recorded Gimbel/Jobim blend of "Adventure," and polished them up for presentation. The softer side of Brazil comes through on "The Girl From Ipanema," with Dave Karr providing the requisite saxophone work; "Meditation," which lives up to its name; and an intimate, voice-clarinet-guitar trio take on "How Insensitive"; but Evingson doesn't just do breezy, she also goes saucy with :Agua De Beber" and beatific on "Sweet Happy Life," as she explores this South American wonderland.
While Brazil is a big part of the package, Evingson isn't a one trick pony stuck in a stylistic rut. When she isn't indulging in the waters of Jobim and Bonfa, she mixes in some light swing with "Canadian Sunset," takes a roaming caravan through an arid desert on "Slow Hot Wind," and gives "Sway" a sultrier than usual makeover that would make singer Michael Buble blush. The only stylistic misstep on the bill comes with Evingson's take on the Roberta Flack-associated "Killing Me Softly With His Song." Evingson thrives in a large variety of settings on this date, but she's out of her element when it comes to out-and-out R&B/soul singing of this variety. Thankfully, this is an anomaly in an otherwise pleasing and varied program.
While tribute albums are a dime-a-dozen, most of them are quickly forgotten because they've been done . Evingson deserves respect for finding a heretofore unturned stone worth turning. Norman Gimbel's words and Evingson's voice make for a beautiful marriage on this easy-on-the-ears outing. ---Dan Bilawsky, allaboutjazz.com
download (mp3 @320 kbs):
yandex mediafire uloz.to mega 4shared cloudmailru gett