Pauline London – Under the Rainbow (2011)
Pauline London – Under the Rainbow (2011)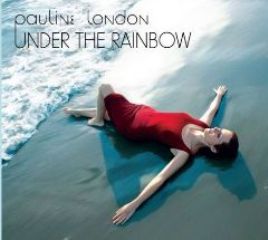 01 – In Black and White
02 – Colors
03 – Walkin` on the Sand		play
04 – I Still Miss You
05 – Amor Para Sonhar
06 – The Shadow of Your Smile
07 – Meu Amor Meu Coracao
08 – Breakout				play
09 – Moment of Magic
10 – Peace is the Only Way
11 – Change Partners
12 – So I
13 – Senza Fine

"Under the Rainbow" is Pauline London's new and long awaited album. After the important international appraisal which resulted from her first album "Quiet Skies" (2004) Pauline is back with a new cd which tastes like Jazz, Nu-Jazz, Latin-Jazz with hints of authorial pop. Whereas the mentioned first album had an electronic-jazz stamp to it, "Under the Rainbow" represents an evolution towards more acoustic and orchestral sounds.
The title of this works calls to one's mind the famous standard, finding continuity between the important traditional Northern American music and her own personal stroke in composing and interpretation. Staying "under" the rainbow is a way of being in present times, here and now, enjoying the inspirations and creativity this multi-coloured spectrum can offer to us. Thanks to the rainbow we can find once more shades of light after a darker hour, we may regain life blood. ...continue This work hence represents continuity with the "musical colours" of "Quiet Skies", but makes them turn out more maturely and homogeneously. A refined combination of acoustic and digital instruments are the central thread of this album. The whole of it is cleverly constructed by the arrangements - here more essential and there cunningly architected – inspired by great Italian maestri Morricone, Trovaioli, Piccioni. This parcours is characterized by Pauline's voice, which moves with adaptability from samba / bossa-nova inspirated atmospheres, towards more introspective and rarefied moments, passing by pop rock accents and sounds. The album's thirteen songs unwind offering us original compositions, interpretation of a few standards and pop covers. Amongst unpublished pieces one catches sight of I still miss you with a latin-jazz taste, nostalgic tone, and its constant pitch modulating crescendo.
Colors, bright and solar, towards an absorbing and dynamic up-tempo, recalls – through composition and lyrics – the feeling beheld by the album's title, the rainbow inside and outside ourselves. Amor para sonhar owns the vivid mood of samba with bilingual portuguese and english lyrics. In Black and White represents a more introspective moment marked by an electro-swing style. Walking on the sand , retro beat. Meu amor meu curacao is pure soft samba with a singing chorus to it. So I is an episode with a pushful rock impulse to it, recalling the tradition of Northern American songwriters.
Peace (is the only way) this song also has a poppy essence to it, but with deep contents. It claims peace, as mentioned in the title, to be the only way. Moment of magic- soft rocking acoustic pace of rythm and strings. Pauline offers a tribute to authors and artists which are part of her background by choosing four "classical" songs each of their own kind. The famous The Shadow of your smile with orchestral interventions in Ennio Morricone's style, Change Partner a piece in Brasilian style made famous by Sinatra, enriched here by the polyphonic arrangement of 4 guitars. Breakout, a song written by the "Swing Out Sister" which comes from the Anglosaxon 80s pop panorama, is revisited in a latin-samba key which keeps your feet moving.
Senza Fine, an emblematic title, both for its last position in the track list, recalling a kind of ciclicity, continuity between an end and a new beginning, and for its celebrity in Italian traditional music. This three quarters is redone as a sophisticated nu-jazz standard. --- paulinelondon.com
download (mp3 @320 kbs):
uploaded yandex 4shared mega mediafire solidfiles zalivalka cloudmailru oboom
Last Updated (Friday, 13 March 2015 09:35)