Krzysztof Popek – Letters & Leaves (1997)
Krzysztof Popek – Letters & Leaves (1997)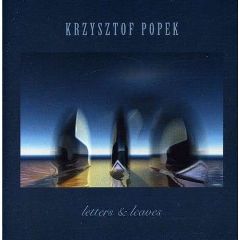 1. Estate ( B. Martino ) 
2. Black Narissus ( J.Henderson )
3. Just Groovin' ( K.Popek )
4. Letters & Leaves ( K. Popek )
5. Rainy ( K. Gluch / H. Gembalski )
6. Infant Eyes ( Wayne Shorter )	play
7. Sky Dive ( F. Hubbard )		play

Personnel:
Krzysztof Popek - alto flute
Piotr Wojtasik - fluegelhorn
Wojciech Niedziela - piano
Jacek Niedziela - bass
Adam Buczek – drums

Krzysztof Popek is a leading Polish jazz flute player topping the jazz rankings of the Jazz Forum monthly (The European Jazz Magazine) for many years and also owner of a well-known label Power Bros.
He started off as a jazz musician at Jazz Juniors '82 and Jazz Nad Odra '85 festivals winning individual awards at both. He plays the soprano and alto flute. Besides, he is a composer, arranger and inspirational leader of his numerous bands of which Young Power stands out as the most renowned and popular.
The successful Letters and Leaves album recorded in 1996 was nominated for the Polish Grammy Award " Fryderyk '96 and came second in Jazz Forum's Album of the Year '96 ranking.
In 2005 he recorded the 'House of Jade' album featuring Victor Lewis , David Friesen , Randy Porter and Piotr Wojtasik and in 2006 'You Are In My Heart' with Joe LaBarbera , David Friesen, Randy Porter and Piotr Wojtasik; in 2007 'Estate' , together with Victor Lewis, Cameron Brown , Stephen Scott and Piotr Wojtasik.
Krzysztof Popek to czołowy polski flecista jazzowy, od wielu lat niezmiennie zajmujący pierwsze miejsce w ankietach jazzowych miesięcznika Jazz Forum, właściciel znanej niemal na całym świecie, niezależnej firmy fonograficznej POWER BROS.
Pierwsze jazzowe kroki stawiał na festiwalach Jazz Juniors' 82 i Jazz nad Odrą' 85 zdobywając na obu nagrody indywidualne. Gra na flecie sopranowym i altowym, a oprócz tego jest kompozytorem, aranżerem oraz inspirującym leaderem wielu swoich formacji. Najbardziej znacząca - Young Power, która zyskała sobie niezwykły rozgłos i popularność, nagrywając wiele znaczących płyt z udziałem czołowych postaci światowego jazzu (m.in. Victor Lewis, David Friesen, Randy Porter, Joe LaBarbera, Piotr Wojtasiki, Tomasz Stańko, Michał Urbaniak).
Koncertował w najważniejszych klubach w całej Europie, a także między innymi na takich festiwalach jak: Warsaw Jazz Summer, Jazz Jamboree, Molde International Jazz Festival, Göttinger Jazzfestival, Leverkusener Jazz Tage, Nancy Jazz Pulsations, Berlin Jazz Tage, Stockholm Jazz and Blues All Stars Festival i wiele innych.
download (mp3 @256 kbs):
uploaded yandex 4shared mega solidfiles zalivalka cloudmailru filecloudio oboom
Last Updated (Friday, 09 January 2015 14:01)