Krzysztof Popek - Fresh Air Project (2016)
Krzysztof Popek - Fresh Air Project (2016)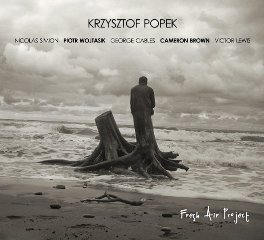 1.    Nicole's Soul (Ed Schuller)
2.    Assunta ( Cal  Massey)
3.    Fresh Air ( Kirk Lightsey)
4.    So It Seems ( Kenny Barron)
5.    Letters and Leaves ( Krzysztof Popek) 
6.    Yes or No ( Wayne Shorter)
7.    Outro ( George Cables)

Krzysztof Popek – alto flute
Piotr Wojtasik – trumpet, flugelhorn
Nicolas Simion – tenor saxophone, bass clarinet
George Cables – piano
Cameron Brown – bass
Victor Lewis – drums  

Time has stamped Krzysztof Popek as a potent force on the Polish jazz scene. The flautist could have found a comfort zone in his native land given the accolades he accumulated there. Instead, he gathered a varied supporting cast of international musicians over the years,and built a strong edifice to his musical explorations. He stamps his credentials all over again on this recording.
Popek explores through the senses of several composers including himself. His "Letters and Leaves" gets a luminous head from George Cables before the melody dances in. Popek flows in with languid lines, turning in a captivating conversation with the pianist. The edge comes from Piotr Wojtasik, the trumpet cutting in; the dynamic fleshing the whole with just the right intensity.
"Nicole's Soul" has a translucent beauty ushered in by the ebb and flow of the flute. Wojtasik, who has long been part of Popek's journey, is convoluting and flinty as he feeds into the permutations without fragmenting the mood. And when it comes to the ensemble, the playing is silky and emotive, the finesse shining.
The bop driven "So It Seems" not only offers contrast but also shows the ability of the band to find its comfort zone in different settings. The heated swell of Nicolas Simion's tenor, the pulsing lines of Cameron Brown's bass, the rhythmic snap of Victor Lewis's drums propulse the groove are the glove to the inventive hand of the front line.
Popek is a craftsmen hewing both to the mainstream yet never shying from improvising with a vibrant sense of adventure. He has a fine band to go with these sensibilities. And he has an enjoyable record to go with it. ---Jerry D'Souza, allaboutjazz.com
Fresh Air Project - kolejna plyta Krzysztofa Popka ktory wraz z gwiazdami amerkanskiego jazzu, od lat pracuje nad stylistyką brzmienia flet altowy – flugelhorn, aktualnie dodajac klarnet basowy (płyty " Places ", " Letters & Leaves ", " House of Jade, " You are in my heart ", " Estate "), która w chwili obecnej, wydaje się, osiąga swój szczytowy etap.
Koncepcja zespołu oparta jest na brzmieniu oraz indywidualności każdego z muzyków, stąd pieczołowity ich dobór. Kolorystykę tworzy specyficzna, wspólna barwa instrumentów: flet altowy - fluegelhorn - bass clarinet, a całość podkreślają najwybitniesi muzycy światowi, pianista George Cables ( Sonny Rollins, Joe Henderson, Roy Haynes, Max Roach, Art Blakey, Sonny Rollins, Freddie Hubbard, Woody Shaw, Sarah Vaughn, Tony Williams, Bobby Hutcherson and Dizzy Gillespie. ), basista Cameron Brown ( Chet Baker, Art Blakey )oraz legendarny perkusista nowojorski Victor Lewis ( Stan Getz, Woody Shaw ) - bezsprzeczne gwiazdy tego sextetu. Brzmienie plytys dopelniaja Nicola Simion – wirtuoz klarnetu basowego oraz Piotr Wojtasik – czolowy polski trebacz o randze międzynarodowej.
Muzyka zespołu oparta jest na kompozycjach wlasnych a także tzw."oryginals", ktore zawierając wspólny "idiom" w sferze aranżacyjno -wykonawczej tworzą jednolity klimatycznie program, gdzie elementy etniczne mieszają sie z nowoczesnym bopem, momentami free a wszystko oparte jest na groovowej pulsacji. ---jazzsound.pl
download (mp3 @320 kbs):
yandex mediafire uloz.to cloudmailru gett