Krzysztof Popek - Young Power (1987)
Krzysztof Popek - Young Power (1987)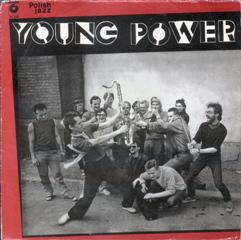 Side A
1. First Not Last (K. Popek) 4:25
2. B.E.D (K. Popek) 9:15
3. Dziadki Bez Orzechow [Nut – Crackers without Nut) (K. Zawadzki) 5:30

Side B
1. Czlowiek, Ktorego Nie Ma (Man who's Not Here) (A. Korecki) 7:35
2. One By One (K. Popek) 4:00
3. Jahu (A. Korecki) 4:10
4. Last Not First (K. Popek) 4:10

Krzysztof Popek – flute, leader
Piotr Wojtasik – trumpet
Antoni Gralak – trumpet
Robert Jakubec – trumpet
Grzegorz Nagorski – trombone
Bronislaw Duzy – trombone
Alek Korecki – soprano, alto sax
Wlodzimerz Kiniorski – tenor sax
Adam Wend – tenor sax
Waldemar Leczkowski – baritone sax
Wojciech Niedzela – piano, keyboards
Zbigniew Jakubek – keyboards
Andrzej Urny – guitar (B3 solo)
Henryk Kapolka – violin (A3 solo)
Marcin Pospeszalski – bass guitar, bass
Krzysztof Zawadski – percussion
Andrzej Ryszka – drums

Krzysztof Popek is a leading Polish jazz flute player topping the jazz rankings of the Jazz Forum monthly (The European Jazz Magazine) for many years.
He started off as a jazz musician at Jazz Juniors '82 and Jazz Nad Odra '85 festivals winning individual awards at both. He plays the soprano and alto flute. Besides, he is a composer, arranger and inspirational leader of his numerous bands of which Young Power stands out as the most renowned and popular.
Krzysztof Popek has been a major figure on Polish jazz scene starting with his leadership of the "Young Power" movement that revolutionized Polish Jazz in 1980's.
He remains a driving force of Polish Jazz until today, being at the same time actively recording and performing artist as well as a head of independent jazz record label Power Bros. Since 1992 Power Bros under leadership of Popek not only edited full series of Polish jazz classics, but at the same time released many new albums by world-class jazz stars, like Joe Lovano, Billy Harper, David Liebman, Victor Lewis, Tomasz Stanko, Buster Williams, Billy Hart, David Friesen, Edward Vesala, Jon Christensen, Arild Andersen, Ed Schuller, Bernt Rosengren, Ben Riley, Ronnie Burrage, Leszek Mozdzer and others.
Jazz proponowany prze Young Power stanowi próbę połączenia różnych, niekiedy skrajnie różnych wątków stylistycznych, jak free-jazz, rock czy blues. Głównym środkiem ekspresji jest tu zasada kontrastu powstającego na styku partii aranżowanych i improwizowanych. Dosadność partii tematycznych kontrastuje z parafree-jazzową kontynuacją, w której rzadko jednak dochodzi do głosu improwizacja solisty w tradycyjnym rozumieniu tego słowa. Może się ona jednak rozwijać i wówczas możemy mówić o związkach z evansowską koncepcją współczesnego jazzu orkiestrowego. Muzycy Young Power to jednak pokolenie z krwi i kości współczesne, pozbawione kompleksów klasyki, pokolenie wychowane na muzyce hard rock, heavy metal, punk rock, bliskie - jeśli chodzi o jazz - "harmolodycznym" ideom Ornette Colemana i jego kontynuatorów. Są przedstawicielami kultury, która domaga się prostoty, przekazu bezpośredniego, domaga się zerwania z wszelkim akademizmem, z tym co "wypada i co nie wypada". Young Power może pozwolić sobie na wybieranie z tradycji tylko tego, co da się wkomponować w tak ujęta estetykę, mającą chwilami charakter buntowniczego manifestu artystycznego. --- welovepolishjazz.blogspot.com
download: uploaded yandex 4shared mediafire solidfiles mega zalivalka filecloudio anonfiles oboom