Old Timers - Hallo Hold The Line (1972)
Old Timers - Hallo Hold The Line (1972)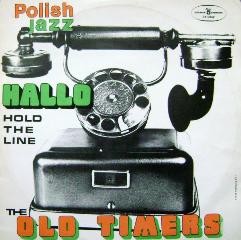 A1 Wrought Iron Bag
A2 Skarabeusz
A3 The Tunes Parade
A4 East St. Louis Toodle-oo
A5 Dogrywka

B1 Twelfth Street Rag
B2 Ondraszek
B3 Kartka Z Zakopanego
B4 Rebeka
B5 Old Timers Blues

Tadeusz Fedorowski - drums
Jerzy Galinski - clarinet
Jerzy Kowalski - trombone
Henryk Majewski - trumpet
Mieczystaw Mazur - piano
Ryszard Ochalski - bass
Henryk Stefanski – banjo

Old Timers Band is symbol and legend in a Polish traditional jazz. For over 30 years it is on the top of the annual rankings of the magazine "Jazz Forum". It is the best traditional jazz band in Europe. It was established in 1965 in Warsaw. A year later the Band won first prize on the "Zlota Tarka", which accompanying the Jazz Jamboree Festival. This result was repeated in two consecutive years, becoming the first so far the only three-time winner of this trophy. The following years was the success story. The Band has performed at many jazz festivals in Europe. Many CDs, hundreds of concerts, television and radio appearances constitute music achievements of this Band. Old Timers Band performed almost in all countries of Europe. In 1975, The Band was awarded the Golden Plate of Polish Recordings for the album "Old Timers with Sandy Brown". In 1980 they went on tour the former Soviet Union countries called Jazz Stars, and participated in the Jazz Yatra in Bombay and Calcutta. The high artistic level resulted in joint performances and recordings with many traditional jazz stars, among which were: Sandy Brown, Beryl Bryden, Buck Clayton, Wild Bill Davisom, Champion Jack Dupree, All Grey, Joe Newman, Albert Nicholas, Benny Waters and others. Apart from theatrical performances, it is necessary to mention that Old Timers recorded the music for such films as "Byl Jazz", "Vabank", "Seksmisja". They also participated in the implementation of the "Opera za trzy grosze" play in Warsaw Ateneum Theatre and in numerous television programs. Each of the Band concerts is always a huge success, which can be evidence by performances at jazz festivals in Dresden (Germany), Banska Bystrica (Slovakia), Salgotarian (Hungary) in 2005. In more than 40 years of musical activities the composed of team has changed, but members of the group are always musicians representing the highest level of performance. --- oldtimers.twoj-impresariat.pl
Powstanie zespołu Old Timers ze wspomnień jednego z założycieli - Wojtka Kamińskiego:
"...W grudniu 1964 roku wyjechałem na kontrakt do Szwecji na 2 miesiące. Kontrakt nam przedłużono o miesiąc i kiedy wróciłem okazało się , że koledzy z zespołu Ragtime Jazz Band nie czekali na mój powrót – mimo, że obiecywali. Przyjęli na moje miejsce Miecia Mazura. W sumie dobrze się stało dla zespołu i dla mnie, ale sposób załatwienia był nieładny. W tym samym czasie Jurka Kowalskiego zespół zmienił na Dzimka Markiewicza. Od razu pomyślałem o założeniu nowej kapeli. Umówiłem się z Kowalskim i się stało... Wspólnie zaprosiliśmy do powstającego zespołu Krzysia Adamka(perkusja). Adamek ściągnął swojego kolegę Staszka Kulhawczuka(kontrabas, dopiero niedawno dowiedziałem się, że w tych latach - nie wiem dlaczego, może on tego imienia nie lubił, ale wszyscy muzycy-przyjaciele mówili do niego Zbyszek) . Następnie ściągnąłem na banjo Jacka Bieńkowskiego i Adama Haltera na klarnet. Halter grał bardzo krótko (jakieś półtora miesiąca), bo wyjechał na kontrakt do skandynawii (zginął w jakimś wypadku promu) gdzie grał. Na jego miejsce przyszedł Wojtek Jabłoński z Ciechanowa. W tym składzie graliśmy koncerty ze 4 miesiące, gdzie w aranżach najpierw to klarnet prowadził linię melodyczną. Kowalski wymyślił już nawet nazwę - "Old Timers". Po trzech miesiącach zacząłem robić podchody do Heńka Majewskiego, którego poznałem grając przedtem razem w "Warszawskich Stompersach", żeby dołączył do zespołu. Heniek był wicedyrektorem jakiejś firmy i nie wierzył w szanse popularności zespołu. Kiedy jednak dostaliśmy propozycję grania w telewizji (wtedy to był wielki zaszczyt) i mieliśmy coraz więcej koncertów, Heniek się złamał. Rzucił pracę w firmie i na słynnym wspólnym graniu w kawiarni "Uśmiech" (suto zakrapianym), zgodził się na przystąpienie do zespołu. W tym składzie wszystko szybko poszło do przodu: Złote Tarki, Jazz Jamboree, wyjazd do Finlandii, nagranie płytki, nagrania radiowe i telewizyjne itd.. Następnie Adamka - już Heniek - zmienił na Jurka Dunina-Kozickiego, Kulhawczuka na Radiuka (potem było jeszcze kilku innych basistów). Na miejsce Jabłońskiego (który miał wtedy kłopoty na studiach), przyjęliśmy Zbyszka Jaremkę. Heniek jeszcze postanowił zmienić Bieńkowskiego na swojego siostrzeńca Heńka Stefańskiego. Zespół szybko zdobył dużą popularność. Niestety pod koniec 1968 roku wyjechałem na 9 i pół roku do Finlandii. Przyjeżdżałem na urlopy do Polski i wtedy grałem w zespole, ale już nie na stałe. Właśnie wtedy, kiedy mnie nie było powstał mit, że zespół założył Heniek Majewski. Mam na to świadków, że było inaczej. W roku 1972 przyszedł do zespołu Zbyszek Konopczyński i gra do dzisiaj . To on po śmierci Heńka przejął szefostwo zespołu..."
W 1966 roku zespół zdobywa wyróżnienie na "Jazz nad Odrą" we Wrocławiu, oraz gra na koncercie inaugurującym festiwal "Jazz Jamboree '66". W roku kolejnym w ramach "Jazz Jamboree '67" organizowany jest II Ogólnopolski Konkurs Tradycyjnych Zespołów Jazzowych "ZŁOTA TARKA", Old Timers zdobywają główną nagrodę. Sukces ten powtarzają w kolejnych dwóch latach, dzięki temu są jedynymi w historii "Złotej Tarki" potrójnymi laureatami(1967,1968,1969). Po trzeciej wygranej zespół dostaje "zakaz" brania udziału w kolejnych edycjach. Rok 1968 to kolejny sukces na "Jazz nad Odrą", -- I miejsce w kategorii zespołów jazzu tradycyjnego.
Swoją renomę zespół potwierdzał podczas wielokrotnych występów na znanych imprezach jazzowych w Polsce i poza jej granicami. Muzycy brali udział w festiwalu Old Jazz Meeting w latach 1973–1979, 1981–83, 1986–87, 1994–95, 1998. 2000, 2003, 2005-06, 2009, 2013. W Międzynarodowym Festiwalu Jazz Jamboree uczestniczyli w latach 1967–1970, 1973, 1975, 1977, 1979, 1981. Muzykę wykonywaną przez Old Timers można było usłyszeć na koncertach i festiwalach europejskich, a nawet w Indiach (festiwal Jazz Yatra). Nagrywali swe utwory na płytach, dla potrzeb Polskiego Radia(Polish Jazz), filmu (Był jazz, Vabank, Seksmisja), realizowali recitale dla telewizji. Byli pierwszym polskim zespołem jazzowym, który otrzymał tzw. "Srebrną płytę jazzową" (w 1975 za LP "HALLO, Hold The Line"). --- oldtimersjazz.pl
download (mp3 @320 kbs):
yandex 4shared mega mediafire zalivalka cloudmailru uplea