Bird York - Wicked Little High (2006)
Bird York - Wicked Little High (2006)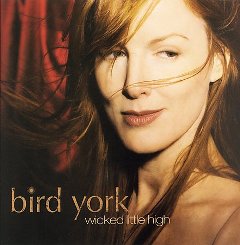 1. Had A Dream 		
2. Remedy 		
3. Wicked Little High 		
4. Open Wider 		
5. In The Deep (From The Lion's Gate Film 'Crash') 		
6. Freedom 		
7. Hold On I'm Coming 		
8. Save Me 		
9. Lovely Thing 		
10. Come Be With Me 		
11. Up In Flames 		
12. Have No Fear

Personnel: 
Bird York (vocals, electric guitar, gopichan); 
Thom Russo (various instruments, programming); 
Larry Klein (guitar, keyboards, bass instrument, programming); 
Rick Musallam (guitar, bass instrument); 
Michael Becker (piano, drums).

Kathleen York (znana również jako Bird York) - amerykańska aktorka, scenarzystka i pieśniarka. Nominowana do Oscara za najlepszą oryginalną piosenkę filmową. Po spędzeniu wielu lat na scenie, osiągnęła szerokie uznanie za sprawą piosenki "In the Deep", napisanej wspólnie z Michaelem Beckerem. Utwór pojawił się na jej albumie "Wicked Little High" i w filmie Miasto gniewu, zadebiutował na 64. miejscu Billboardu oraz został nominowany do Oscara. Podczas 78. ceremonii wręczenia Oscarów Kathleen wystąpiła na żywo i zaśpiewała nominowany utwór. Jej piosenka "Have No Fear" (również napisana z Michaelem Beckerem) była głównym utworem w filmie Siedem dusz. Jej piosenki zostały także wykorzystane m.in. w serialu Dr House, Bez skazy, CSI: Kryminalne zagadki Nowego Jorku, Skazani za niewinność, Agenci NCIS, Everwood czy Sprawy rodzinne 2.
Kathleen "Bird" York is an actress, screenwriter and Oscar nominated songwriter-recording artist. As a screenwriter, York has written projects for John Wells Warner Brothers, Sony, Paramount and has just completed a one hour pilot for Fox Television Studios. Wicked Little High (2006 EMI Records) is the 4th studio album by Bird York.
With Wicked Little High, a familiar face looks set to become a familiar voice. A busy actress with a long list of credits--including a recurring role on The West Wing--Kathleen "Bird" York had a bit part in best picture winner Crash. More significantly, she wrote and performed the Oscar-nominated theme song "In the Deep" (an honor shared with co-writer Michael Becker). There's more where that mesmerizing number came from on the striking redhead's seductive Narada debut. Take the title track, for instance, in which York can't resist the charms of a Mr. Wrong who's like "the fifth drink before a long drive home," but "desire is such a wicked little high when the one you want is blind to you." Sounding like Sia's sexy older sister, York wraps her smoky alto around 11 other tales of lust and loss, including the Isaac Hayes-penned r&b classic "Hold On, I'm Coming"--a top 10 hit for Sam & Dave--here reinvented as blue-eyed soul with a trip-hop beat. On other tracks, she assumes the voice of a teenage runaway in the grips of young love ("Open Wider") and an elderly widow grappling with loneliness ("Save Me"). A revamped version of 2003's The Velvet Hour ("Freedom" and "Hold On" replace "Haunting You" and "Never Gonna Find Us"), Wicked Little High features contributions from producer Larry Klein (Joni Mitchell, Peter Gabriel) and guitarist Steve Caton (Tori Amos). --Kathleen C. Fennessy
download: uploaded yandex 4shared mediafire solidfiles mega zalivalka filecloudio anonfiles oboom
Last Updated (Thursday, 31 July 2014 20:16)