Karolina Glazer - Normal (2009)
Karolina Glazer - Normal (2009)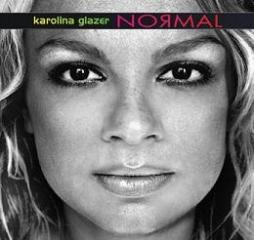 1. The Lost Fairy Tale 
2. Prayer 
3. Walking By 
4. The Moon Is a Harsh Mistress 
5. Level 5 
6. Carrousels                                  play
7. Przenikanie - Diffusion 
8. Music Comes 
9. Minute 4 7 
10. My Heart Full Of Passion 
11. Ach Spij Kochanie - Oh Sleep My Darling    play
12. Voicemixer (Outro)

Karolina Glazer (vocals)
Krzysztof Ścierański (bass), 
Bernard Masela (vibraphon), 
Henryk Gembalskio (violin), 
Thomasa Sanchez (drums, percussion), 
Maciej Tubis (piano).

Karolina Glazer is recognized as the rising star of Polish jazz vocalism. She specializes in an instrumental approach to voice and directs a lot of her attention to scat improvisation. Karolina is a vocalist, composer, arranger and producer. In 2007 she represented Poland in an International Jazz Vocalists Contest "Lady Summertime" in Finland. In July's edition of an American monthly she was recognized as one of the five most promising vocalists in the world. She was the first Pole to win such laurels. In 2003 she became a winner of XXX International Jazz Vocal Meeting in Zamość – that was when she began her musical career. She experiments with the sound of her vocal by using her great imagination and a 4-octave scale. She is giving concerts with her bands, which includes the most prominent musicians of young generation. Her concerts are always a trip to a different area of music. Among her various interpretations we can find such standards as Route 66, thanks to which she took part in the semi finals of Sopot's Top Trendy 2006 competition, as well as her own compositions. One of her own songs was included on a CD called ,,The Best of Polish Smooth Jazz" vol. 2.
A concert of Karolina Glazer's NORMAL Quintet is a journey across various cultural spots of the world combined with harmony and jazz tradition. She strives towards NU JAZZ; drum'n'base connected with Arabic scales, Latin salsa with innovative sounds and house beat joined with jazz improvisation. Karolina Glazer as a composer and arranger of her concerts is not afraid of style diversity which she thinks is her advantage and easily mixes African rhythm, Arabic scales, Scandinavian spaces and white jazz vocalism. Her concerts are pure eclecticism and a trip through her world of inspirations. In her music you can find influences of such Polish musicians as: Krzysztof Ścierański or Bernard Maseli. Years spent in their company, performing together on numerous concerts and cooperating on different recordings affected on the openness of her music which cannot be pigeonholed as one particular genre. She is a second Polish vocalist (after Urszula Dudziak) who treats her voice so instrumentally that during the concerts she only sings songs composed with a real time voice. Thanks to the digital instrumental system Karolina puts different tracks on each other creating by this a sort of choir. Young and amazing musicians are her very important advantage. Each of them is a representative of a different musical trend; together they create a new, energetic and often hectic quality which heads towards nu jazz.
Karolina Glazer (ur. 10 czerwca 1982 w Gliwicach) – polska wokalistka jazzowa i kompozytorka. Specjalizuje się w instrumentalnym podejściu do głosu. Przywiązuje dużą wagę do improwizacji scatem. W 2003 r. otrzymała laur festiwalu dla wokalistów jazzowych w Polsce – Międzynarodowych Spotkań Jazzowych w Zamościu. To pozwoliło jej na dalszy rozwój i koncertowanie z muzykami czołówki polskiego jazzu. W 2006 r. utwór Route 66 w jej wykonaniu znalazł się na składance The Best of Polish Smooth Jazz vol. 2. Także w 2006 była półfinalistką sopockiego festiwalu TOPtrendy. W 2007 r. reprezentowała Polskę w Finlandii na Międzynarodowym Festiwalu Wokalistek Jazzowych Lady Summertime. Została uznana przez amerykański magazyn muzyczny Singer Universe (typujący najlepszych wokalistów) za jedną z 5 najlepiej rokujących wokalistek na świecie, będąc jednocześnie pierwszą Polką, której ten laur został przyznany.
20 czerwca 2009 miała miejsce premiera jej debiutanckiego autorskiego albumu Normal. Jest jego producentką i kompozytorką większości utworów. W pracy wspierali ją Krzysztof Ścierański i Bernard Maseli. W Polsce album został wydany przez wydawnictwo Fonografika, natomiast jesienią 2009 będzie miał międzynarodową premierę, dzięki kontraktowi podpisanemu z niemiecką wytwórnią JARO medien.
download (mp3 @160 kbs):
uploaded yandex 4shared mega solidfiles zalivalka cloudmailru filecloudio oboom
Last Updated (Tuesday, 30 December 2014 13:58)