Peter Beets ‎– Blues For The Date (2010)
Peter Beets ‎– Blues For The Date (2010)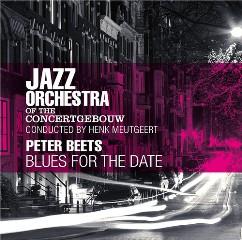 1-1 	It's Happening		7:57
1-2 	For Simon		10:18
1-3 	First Song		7:44
1-4 	Dégage		8:39
1-5 	Is It Wrong To Be Right?		10:28
1-6 	Tristity		9:24
1-7 	Blues For The Date		10:46

2-1 	Blues For The Date (Alternate Version)	 	3:09
2-2 	It Has Happened 		6:20
2-3 	In A Hazy Mood		7:05
2-4 	After You've Gone		7:11
2-5 	It's Happening (Alternate Take)		8:00

Alto Saxophone [Lead], Soprano Saxophone, Clarinet, Flute – Joris Roelofs
Alto Saxophone, Flute – Jorg Kaaij
Bass Trombone – Martien de Kam
Double Bass – Frans van Geest
Drums – Martijn Vink
Guitar – Martijn van Iterson
Piano, Soloist [Piano] – Peter Beets
Tenor Saxophone – Simon Rigter
Tenor Saxophone, Clarinet – Sjoerd Dijkhuizen
Trombone – Bert Boeren, Hansjörg Fink
Trombone [Lead] – Martijn Sohier
Trumpet [Lead], Flugelhorn – Jelle Schouten
Trumpet, Flugelhorn – Jan van Duikeren, Rini Swinkels, Ruud Breuls, Wim Both
Conductor – Henk Meutgeert

As one of the most sought-after jazz artists of our time, PETER BEETS has attracted a devoted international audience, performing regularly at major jazz festivals and venues throughout Europe, the United States and Asia. He has shared the stage with jazz greats such as Chick Corea, Wynton Marsalis, "Toots" Thielemans, Elvin Jones, George Coleman, Johnny Griffin, Benny Golson and Kurt Rosenwinkel. One of his earliest recordings, "First Date" (1996), featured the great Jeff Hamilton on drums. In 2001 the Criss Cross label invited Peter for a series of CDs with his "New York Trio", inviting artists like Willie Jones III, Larry Grenadier and Greg Hutchinson, earning him international acclaim.
From birth, Peter was surrounded by music: Classical from his mother who is a music pedagogue, and Jazz from his father who instilled in his son his own great love of Oscar Peterson and Art Blakey. His brothers Marius (1966) and Alexander (1968) also became professional musicians, double bass and tenor saxophone respectively. Since 1985, the brothers have performed together as "The Beets Brothers".
In 1988 Peter was awarded the prestigious Pall Mall Swing Award, and a year later the Princess Christina Award. In 1998 he completed his conservatory studies, winning the Prix Martial Solal in Paris. In the same year, he became the featured pianist with "The Jazz Orchestra of the Concertgebouw". The following year, he produced a live recording with jazz legend Curtis Fuller and was also awarded the Concours de Solistes de Jazz in Monaco.
In 2010 Peter was awarded an Edison (Dutch equivalent of the Grammy) for the album "Blues for the Date", with his original compositions, accompanied by "The Jazzorchestra of the Concertgebouw". ---peterbeets.com
download (mp3 @320 kbs):