Natalie Cole ‎– Still Unforgettable (2008)
Natalie Cole ‎– Still Unforgettable (2008)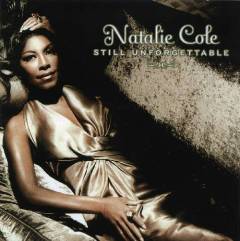 1 	Walkin' My Baby Back Home (Duet With Nat King Cole) 	2:59
2 	Come Rain Or Come Shine 	3:08
3 	Coffee Time 	2:28
4 	Somewhere Along The Way 	4:42
5 	You Go To My Head 	5:24
6 	Nice 'N' Easy 	3:31
7 	Why Don't You Do Right? 	4:02
8 	Here's That Rainy Day 	6:03
9 	But Beautiful 	3:51
10 	Lollipops And Roses 	5:52
11 	The Best Is Yet To Come 	4:04
12 	Something's Gotta Give 	2:49
13 	Until The Real Thing Comes Along 	3:09
14 	It's All Right With Me 	3:29

Natalie Cole's liner notes for Still Unforgettable make it sound like the Great American Songbook had been collecting dust on her shelf since 1991, when she recorded Unforgettable, the album that shot her into the mainstream. (She had been releasing Top Ten R&B albums since 1975, but Unforgettable was something else, a cultural phenomenon that inspired a Saturday Night Live skit.) Still Unforgettable features another duet with father, "Walkin' My Baby Back Home," but its make-up isn't that much different from albums like Take a Look (1993), Stardust (1996), or Ask a Woman Who Knows (2002). While she has been reinterpreting classics on and off for nearly two decades now, she can't be faulted for phoning it in; in fact, she seems to be having more fun with the songbook than before. If you're keeping score at home, Nat King Cole was 32 when he recorded "Walkin' My Baby Back Home"; Natalie was in her late 50s when she recorded the duet with her father's vocals -- which would, for the sake of the song here, make her old enough to be her father's mother. ---Andy Kellman, Rovi
Natalie Cole, whose hit songs included the duet Unforgettable with her father Nat "King" Cole, has died aged 65 on Dec. 31, 2015.
Na "Still Unforgettable" znajdziemy nagranie, które Natalie śpiewa wraz z legendą tej muzyki Nat King Cole'em. Jest nią przepiękną kompozycja "Walkin My Baby Back Home" Nat King Cole'a – ojca wokalistki. Dzięki najnowszym technologiom Natalie miała znowu możliwość zaśpiewać razem z nim. Wyszło perfekcyjnie, a słuchacz z pewnością będzie miał wrażenie, że nie ma tu żadnych komputerowych sztuczek.
Reszta albumu to kompozycje napisane przez największych amerykańskich twórców muzyki rozrywkowej, pochodzące z The Great American Song Book. W takich utworach jak "But Beautiful", "Nice'N'Easy" czy "Come Rain Or Comin Shine" pokazuje prawdziwy wokalny kunszt, przez co słucha się jej z prawdziwą przyjemnością. Jak widać, artystka zdecydowała się nagrać album, który miałby być doceniony w gronie krytyków jazzowych. I bez wątpienia tak się stanie, ponieważ mamy tu do czynienia z kawałkiem naprawdę dobrej "jazzowej" roboty.
Mimo wielu lat na scenie, nie słychać u niej ani artystycznego zmęczenia ani tym bardziej spadku formy. Obdarzona nieprzeciętną energią, Cole po raz kolejny przekazuje ją swoim słuchaczom, pokazując, że ma im jeszcze wiele do zaoferowania. ---Kamila Czerniawska, infomusic.pl
Natalie Cole nie żyje. Amerykańska piosenkarka i córka legendy jazzu, Nat King Cole'a, zmarła 31 grudnia 2015 roku.
download (mp3 @320 kbs):
oboom yandex 4shared mega mediafire zalivalka cloudmailru uplea